I adored this Washington Post story published in their sports section on Christmas Day all about two retired race horses, their affinity for each other, and the apparent joy they derived from the company and proximity of the other, even living in the same stall for a time. I've screen-shot the first three paragraphs, and highly recommend you read Chuck Culpepper's whole story linked to here, which has many surprising twists and turns before you reach the conclusion.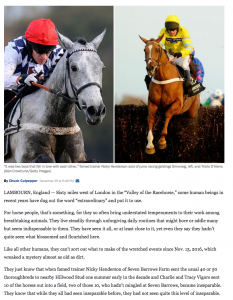 By a happy coincidence, I have an author/photographer client on the literary agency side of my business who's doing a book about equine therapy and its benefits for people, to be titled How Horses Help Us Heal, which I am hopeful we will place with a publisher in the new year. This is part of the pitch letter I'll be sending to editors at publishing houses:
For Karen Tweedy-Holmes' earlier book, Horse Sanctuary (Rizzoli, 2013), which had a foreword by Temple Grandin, she photographed horses at thirteen equine rescue facilities all over the USA, while also interviewing people who work with the rescued animals. It has wonderful reviews on Amazon and the single printing of the pricey hardcover sold out. In creating that book she discovered that many rescued horses are having renewed lives at equine therapy facilities, where people with vexing physical and mental health conditions find benefit and improvement in being around horses—grooming them, exercising with them, feeding them, sometimes riding them, or walking with them on a light lead. 
Tweedy-Holmes also learned that some of the most sensitive and healing horses are animals that have themselves endured neglect and abandonment and then been rescued, much like the people who often find such great solace in connecting with them. These relationships lead to extremely tight bonds among the horses, the patients, and the skilled therapist facilitators who help direct the interactions, all reflected in her extraordinary photographs and writing. 
Now, Tweedy-Holmes has embarked on How Horses Help us Heal, a wide-ranging overview of more than a dozen equine therapy facilities that treat US military veterans with PTSD; children with learning problems; couples in therapy together; anxiety-plagued teenagers, substance abuse patients, etc.  Tweedy-Holmes intends to focus on the stories of individual horses, adding their stories in to the chapters about patients and caregivers at each therapy center. 
Judging from the story of these two companionable horses and their close bonds, it seems fair to say horses are also very capable of healing each other.
http://philipsturner.com/wp-content/uploads/2017/12/Screen-Shot-2017-12-26-at-7.00.05-PM.png
1045
812
Philip Turner
http://philipsturner.com/wp-content/uploads/2016/11/GGB_Logo.png
Philip Turner
2017-12-26 20:35:43
2017-12-26 20:37:37
A Heartwarming Tale of Two Very Companionable Horses