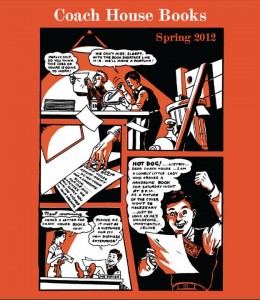 With indie record labels now routinely making downloads of music available to buyers of vinyl LPs, I'm heartened to see a similar strategy taking hold among indie publishers too, with regard to ebooks and printed books. Today, the good people of Toronto's Coach House Books made this smart offer on the press's website:
Coach House Offers Free Digital Downloads with Print Purchase!
Coach House will, as of February 14, offer free digital downloads with the purchase of any print edition (provided, of course, the book currently exists in e-format). You buy one of our print books, the electronic book is yours for the taking. Sounds great, but how does it work? One of two ways:
1) When you order a book from the Coach House online store, you'll automatically be sent a link for a secure download of the epub edition. This automated process will begin later in February, so until then, one of the friendly Coach House staff members will send you an email following your order with further directions.
2) If you buy our books in a bookstore (an activity we highly recommend), you can also obtain a digital download. Starting this spring, all new books or printings will feature a unique code and instructions (on the copyright page) on how to claim your free digital download. For previously printed books, please email us atsales@chbooks.com with (a) the title, (b) the store name, (c) your transaction number and (d) your preference of ebook format: PDF or epub.
That's all there is to it.
I admire the Coach House list which mixes fiction, poetry, drama, film, urban studies, and architecture. Uniquely, as they explain on their website, they've "always maintained a dual role in Canadian letters by both publishing and printing books." That is to say, they print their own titles, while also doing job printing for universities, individuals, and other publishers. Last June while visiting Toronto for NxNE, the music festival aka North by Northeast, I visited my friend Alana Wilcox, Coach House editorial director. She gave me a tour of their office, which really is located in a red brick coach house on a shady lane in the leafy city. This is no musty or antique enterprise, despite it's commitment to a technology that one associates with Ben Franklin and huge machines. I think it's particularly apt, that since 1997–when Coach House Books was revived from a brief dormant interlude by current owner Stan Bevington, they "boldly ventured online, publishing electronic editions, and luscious print versions."
Now, with the print book and ebook initiative announced today, Coach House has demonstrated their continuing relevance, if it were needed–and that of publishers like them– in the burgeoning digital age that publishing has entered. I wonder how long it will be before big, commercial houses are also routinely making ebooks available, or some digital product, available with purchase of a new book. Meantime, congratulations to Coach House Books for leading the way.
When I visited Alana, I took pictures of the presses and machinery as she walked me around, and had the pleasure of meeting Stan Bevington in their break room. Later, outside the coach house, she showed me where a poem by bpNichol, a practitioner of 'concrete poetry,' is chiseled/etched/incised in to the Toronto street named fittingly, bpNichol Lane. The verse:  A lane/A lane/A lone/A line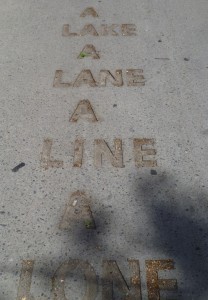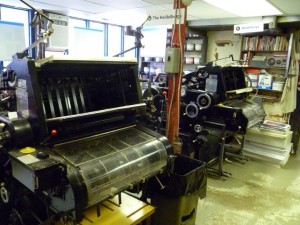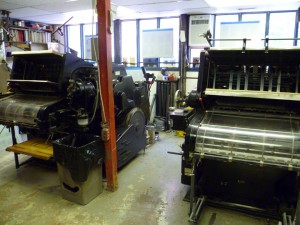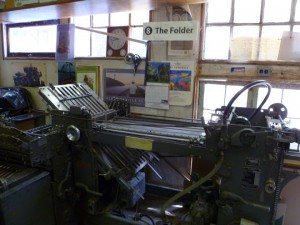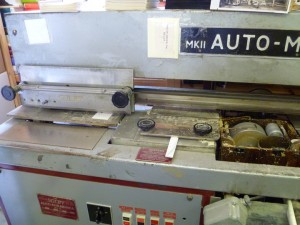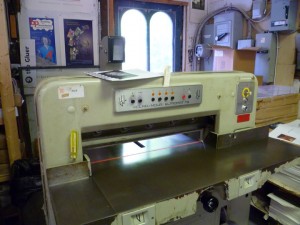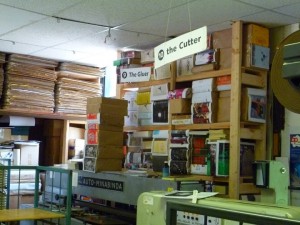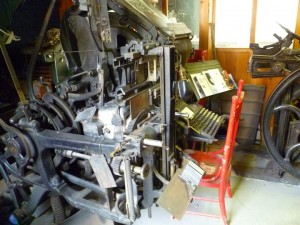 http://philipsturner.com/wp-content/uploads/2016/11/GGB_Logo.png
0
0
Philip Turner
http://philipsturner.com/wp-content/uploads/2016/11/GGB_Logo.png
Philip Turner
2012-02-01 23:50:01
2012-02-01 23:50:01
Putting Printed Books and Ebooks on Equal Footing