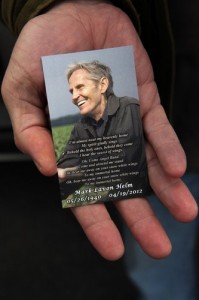 The NY Times reports that this past Thursday more than 2,000 fans, friends, and admirers of Levon Helm flocked to Woodstock, NY, to pay tribute to the late drummer, singer, and all around good man. Levon's family prepared the palm card shown here with his picture and dates to hand out to the sad celebrants. What struck me in this story and other accounts I've read are the tales of his contributions to the local community–playing on the Town Green, inviting locals to attend concerts at the Ramble free of charge, and other kindnesses. He is missed by so many.
In honor of The Band's creative musical enterprise, here's a great video clip that combines a studio performance of "King Harvest Has Surely Come" with "Long Black Veil." The late Richard Manuel sings lead on the first, and the late Rick Danko on the second song. Levon is drumming and harmonizing throughout, with Garth Hudson sweetening the heady sound and Robbie Robertston adding lots of tasty lead licks.
If you haven't read my posts following Levon's death over te past week, you may read them here and here.
Finally, it seems right to add a few lyrics from Bob Dylan, famously sung by Levon in "The Weight."
Crazy chester followed me, and he caught me in the fog.
He said, "i will fix your rack, if you'll take jack, my dog."
I said, "wait a minute, chester, you know I'm a peaceful man."
He said, "that's okay, boy, won't you feed him when you can."
Take a load off fanny, take a load for free;
Take a load off fanny, and (and) (and) you can put the load right on me.
Catch a cannon ball now, t'take me down the line
My bag is sinkin' low and I do believe it's time.
To get back to miss fanny, you know she's the only one.
Who sent me here with her regards for everyone.
http://philipsturner.com/wp-content/uploads/2016/11/GGB_Logo.png
0
0
Philip Turner
http://philipsturner.com/wp-content/uploads/2016/11/GGB_Logo.png
Philip Turner
2012-04-28 15:24:01
2012-04-28 15:27:08
A Sweet Farewell to Levon Helm