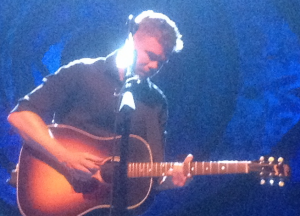 My wife and son and I bought tickets for Josh Ritter's May 18 gig at Terminal 5 back in the winter, shortly after the show was first announced. When the night finally arrived this past Saturday, we were excited we'd be hearing him live for the first time. It was also our first time hearing a show at this venue, and we were surprised and pleased by how smoothly Terminal 5 operated. Though we arrived earlier than 7 PM when the doors were scheduled to open, we were admitted immediately, sent up to a rooftop patio and soon allowed downstairs in the big performance space. Our early arrival meant we were very close to the stage when the opening act, the Felice Brothers, took to the stage. Though hailing from towns in NY's Hudson Valley, I heard tinges of Tex-Mex rock from this likable 5-piece, along with echoes of Doug Sahm and his Texas Tornadoes, driven especially by the keyboard and accordion work of boisterous brother James Felice. They were a great warm-up band and I was glad I later I had a chance to buy their CD, "Tonight at the Arizona."
After an interval to reset the stage, Josh Ritter stepped up to his mic right at 9:00 PM. He addressed the audience:  "It is so good to be here, this is my home now. Thank you for being here. We're going to have an amazing night. If at any point in the show I look nervous, it's  because I am." With that he started finger-picking a Gibson acoustic guitar for his first song, "Idaho." As he segued from his first song to his second, members of the Royal City Band began joining him on stage, with Sam Kassirer taking a seat at the keyboards, while Zachariah Hickman*, sporting an extravagant  handlebar moustache, picked up a Fender bass, followed by Austin Nevins on lead guitar and Liam Hurley on drums. The first song with the full band was "Southern Pacifica"–with its opening verse "Southern Pacific/Red, white and blue/Where are we running to," and the  memorable chorus, "Remember me to Roxianna/You know she's still lovely/Tell her I was on the move/Last time you saw me/That you only saw the back of my head."
A bit more than halfway through the show, Josh spoke to the audience about his new album, "Beast on the Tracks," a kind of breakup album written following his recent divorce. He alluded to the personal anguish that led to the composition of the new songs, and the resilience that allowed him to record them and, now sing them live for people, night after night, and do so joyously and not in sorrow.  As the band then moved in to playing the songs from "Beast," Ritter became even more buoyant than earlier, even while some of his lyrics became darker. I was reminded of other breakup albums, almost a genre of its own: Dylan's "Blood on the Tracks," released in 1975, and widely regarded as expressing his pain at the end of his marriage to the same Sara who he sings of in "Sara" from "Desire." More recently, Canadian artist Kathleen Edwards released "Voyageur"–Rolling Stone reported she wrote the album after enduring a breakup of her own. 
For nearly two hours Josh Ritter and his fine band ranged widely across his rich repertoire, playing nearly 20 songs on the ride. Ritter is an exciting and ebullient performer, continually interesting to watch on stage. He lowers himself to his knees while continuing to strum his instrument; cups his hands to his mouth and howls like a wolf; turns his back to the audience to direct his band like a vested conductor; strides in close to Nevins as the sideman plays arcing lead riffs with clear tone; tosses away guitar picks like pistachio shells; and connects with everyone in the crowd like he's playing and singing just for them. It was a thrill to hear and see him play live. His performance was a triumph of his winning personality. Below are pictures from this superb show, many taken by my wife, artist Kyle Gallup.
* Zachariah Hickman evidently specializes in providing stellar backup to really great singer/songwriters. I'd earlier heard him as part of the backup band assembled by Rose Cousins, the Canadian musician whose album "We Have Made a Spark," with Hickman playing on it, won the Juno Award this year.
http://philipsturner.com/wp-content/uploads/2016/11/GGB_Logo.png
0
0
Philip Turner
http://philipsturner.com/wp-content/uploads/2016/11/GGB_Logo.png
Philip Turner
2013-05-21 12:39:21
2013-05-22 10:13:00
Josh Ritter in NYC, a Buoyant Showman at Terminal 5