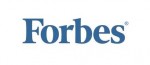 Interesting article by Jeff Sonderman at poynter.org, the journalism and media hub, about the model that forbes.com has created for itself, "'a full-fledged platform' for 1,000 expert contributors and Forbes staff alike, and 'a social media operating system' to engage 30 million monthly unique visitors." I know two of their thousand bloggers, friends Rick Ungar and Tom Watson–last month Tom invited me to cover the Hillman Awards as one of a posse of bloggers–and I'm definitely intrigued by the platform, what its originator Lewis DVorkin calls "our model of entrepreneurial journalism." Unlike Huffington Post, to which it's been compared, forbes.com pays many of its contributors, and seems to have developed reasonable metrics for rewarding writers based on their readership. They are also developing their own style of social media that their contributors can draft off of, what DVorkin calls the "FORBES Follow Bar," making "it easier for our growing audience to follow and find all our staffers and subject experts."
Importantly, given their connection to Forbes magazine, forbes.com goes well beyond just business and finance, and it is not in thrall to the conservative ideology identified with Steve Forbes. Ungar has a blog covering healthcare and politics, while Watson is a contributor commenting on "social ventures, media, and change." Forbes.com's audience doubled this year, from 15 million monthly visitors to 30 million. According to Sonderman, "Fifty-five writers have more than doubled their audience since last June, DVorkin recently wrote, and 'a handful' periodically draw more than 1 million readers a month." Sonderman reports "that Forbes hires each contributor to write about a specific subject, and requires them to stay in their lanes." Considering that I cover more than half a dozen subjects on this blog–city life, books, music, culture, media, current events, and city life–I wonder how writers do operating in a narrower silo like that. Of course, people like Tom don't write only for forbes.com, as he also has a site and blog of his own.
I don't hear too much about Forbes magazine nowadays, and wouldn't be surprised to learn that forbes.com is increasingly important to the company's future.
http://philipsturner.com/wp-content/uploads/2016/11/GGB_Logo.png
0
0
Philip Turner
http://philipsturner.com/wp-content/uploads/2016/11/GGB_Logo.png
Philip Turner
2012-05-30 23:03:22
2012-05-30 23:03:22
A "Model for Entrepreneurial Journalism"