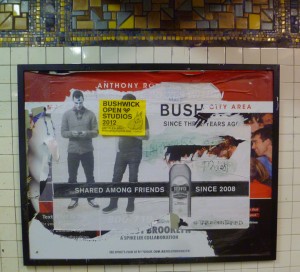 Saturday was a perfect day for me and Kyle to go to Bushwick Open Studios (BOS) in Brooklyn. Our plan was to meet up with Kyle's friend, painter Louisa Waber, and see as much as we could over the course of the afternoon. Before leaving we checked the BOS online catalog and jotted down several art venues that we knew we to wanted to hit, while still leaving opportunity for serendipitous discoveries. This year, the sixth annual BOS, there were more than 525 studios and galleries open to the public—so much to see and not enough time to see it all. What struck us immediately, and held true throughout the day, was the fresh, open, and unselfconscious quality of the artists and the work they were showing.
Our first stop was Norte Maar on Wyckoff St., where we'd read that we could pick up a printed catalog including helpful maps of the six zones where BOS was happening. After viewing the show of paper and film collages by Oliver Ralli and a video by his music group PassKontrol, we headed over to the exhibition AllTogetherNow organized by Julie Torres at The Coin Locker on Starr Street. The group of eleven artists in this show came from Australia, Europe, and across North America, having first been drawn to each other's work on Facebook. Torres organized the exhibit and invited them to Brooklyn to show their paintings and spend time working together on collaborative pieces. All of them had met in person only for the first time in the past week. Hanging the show, she gave the artist the opportunity to step back from their work while she made connections among individual pieces that might not otherwise have emerged. The artists told us that Julie instructed them to place their works on the floor in front of the wall it would hang on and then "go get a cup of coffee." Julie then translated the art on to the walls.
A sentiment expressed by several of the artists we spoke with, including Brian Cypher, Peter Shear, Vincent Hawkins, Inga Dalrymple, and Ian White Williams, was how they appreciated the chance to better understand each other's creative process by collaborating on small works on paper. An artist would begin a piece and then another artist would choose to respond to the last artist's drawn marks, shapes or color. The piece would be passed around and worked on until they felt that it was ready to put on the "finished pile." The exhibition included works by the individual artists and the collaborative pieces they'd completed together.
Back out on Jefferson Street, we stopped for a free hot dog and iced tea outside the newly opening Cobra Club. A word to culinary carnivores: the hot dogs were from the cool Brooklyn butcher Meathook.
The next stop we made had not been on our list but the door was open and so we walked in, meeting two young female artists sharing a space on industrial Johnson Street, Alison Kizu-Blair and Sophie Stone. They told us that they'd been working in their apartments on very small-scale pieces until they decided to rent this space together. Close friends—Alison a painter and Sophie working more sculpturally—both are finding a new kind of freedom sharing the Bushwick studio. Alison said that earlier she'd only been able to work on small collages, while the studio space now allowed her to work larger and in oil paint, while her friend Sophie is able to create free-standing sculptural tiles and works in paper pulp and corrugated cardboard which she could not do in her apartment.
Next we continued on foot down desolate Johnson Street which was lined with idling trucks emitting odors and parked cement-mixing trucks until we reached The Active Space on Stewart Street to view Deborah Brown's exhibition "Freewheeling." The large space showed off Brown's vibrantly painted canvases in hot saturated color that contrasted the junk cars and derelict junkyard landscapes.
Later, at The Active Space we walked in and out of studios where artists were working and meeting people. We met painter and fiber artist Emily Auchincloss who draws inspiration from weavers in Morocco who make boucherouite rugs. Another studio we visited was that of Jen Hitchings, who makes paintings related to her emotional connection with photography.
On 117 Grattan Street we were welcomed by artist Sharon Butler of the blog Two Coats of Paint where we viewed a group show curated by Austin Thomas, mounted in Sharon's studio. This was a selection of four artists' work that quietly related to one another. We noticed an old Royal portable typewriter that Sharon said she uses when she's working in her studio. She does not have a computer in the studio and prefers staying offline while there. She uses the typewriter to make lists of different ideas and thoughts that come into her mind. Her views of Brooklyn rooftops and buildings provide an inspiration for her own paintings.
As the afternoon waned and we began to tire, we just had time for a visit to StorefrontBushwick on Wilson Street to see another group show. This was a collection of pieces by artists Abdolreza Aminari, Drew Shiflett, Paula Overbay, Lauren Seiden. Matthew Mahler, and Nancy Bowen. Aminari, from Iran, had delicate gold thread sewn through paper pieces, a nice contrast to Shifflett's "Easel Sculpture #2" made from paper, fabric, glue, cardboard, wood polyester stuffing, Styrofoam and wire. In Seiden's work, the layering of graphite on paper had a dense materiality.
Though there was much more we wanted to see, we stopped for a cold drink and a Mexican snack and the three of us shared our impressions of our afternoon's long ramble through what amounted to only a mere sliver of BOS. We hope this report and the photos below give our readers a sense of how working artists have come together to forge a strong creative community in Bushwick, while it continues to evolve in new ways. (You may click on the photos for larger images and a slideshow.)

http://philipsturner.com/wp-content/uploads/2016/11/GGB_Logo.png
0
0
Philip Turner
http://philipsturner.com/wp-content/uploads/2016/11/GGB_Logo.png
Philip Turner
2012-06-03 13:05:22
2012-06-04 22:31:03
Bushwick Open Studios, June 2—Shared Blog Post by Kyle Gallup & Philip Turner