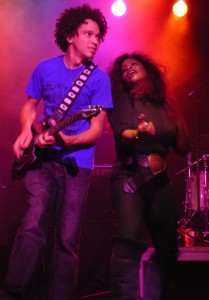 Each year during BEA book distributor Publishers Group West (PGW), and a number of their client publishers, throw one of the book convention's best parties, with a tradition of live music over the years (John Wesley Harding, for one) and good venues (Chicago's Green Dolphin, for instance). Last year they booked the superb soul singer Lee Fields, and this year longtime PGWers Elise Cannon–and I learned during this year's party, Sean Shoemaker–really outdid themselves. The party was at the Highline Ballroom, a new state-of-the-art club with great sound and a terrific lighting system in Chelsea on 16th Street near Tenth Avenue. The acts they booked this time occupied a solid groove in funk and R&B, just right for a dance-ready crowd that'd been working the Javits convention floor for two days and craving some serious fun.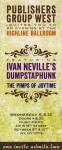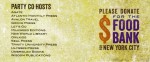 The opener was a Brooklyn outfit called The Pimps of Joytime, a five-piece that featured three percussionists–a conga player, a drummer seated not behind his bandmates, but right amid them, and a woman who played wood blocks and all manner of solid sounding and scarped objects, and sang too–along with a bassist who doubled on keyboards and synths, and guitarist and lead vocalist/front-man Brian J. Though Brooklyn-based, they plowed a very New Orleans-Little Feat-Caribbean groove and were a terrific warm-up for the evening, really enjoyable enough to be a headliner on another bill, duties they were scheduled to handle Saturday night June 9 at NYC's Bowery Ballroom.
After a brief intermission that saw the stage get made over for a different sort of ensemble, the headliners hit the boards. This was Dumpstaphunk, also a five-piece, one that includes two nephews of R&B royalty–Ivan Neville on organ and vocals, whose uncle is Aaron Neville, and Ian Neville on lead guitar, whose uncle is Art Neville. In addition, they uniquely feature a two-bass attack with Nick Daniels and Tony Hall. On drums is Nikkie Glaspie, a powerful young woman who also sang from behind her kit.
Their repertoire's solidly rooted in the delta and New Orleans, spiced with an edgy social conscience and song titles like "Turn This Thing Around," Everybody Wants Some," and "Livin' Ina World Gone Mad." They exhibited great stage presence, with Tony Hall, who also played a Fender Stratocaster on some songs, regularly engaging the audience, while Ivan also introduced some songs from behind his wide keyboard. I was fascinated that the pairing of Hall and Daniels, already unique for comprising a two-bass section, featured five-string instruments, rather than the standard four-string basses. In this band, it's clear that the bass is very much of a lead instrument.
A highlight arrived with word from the stage that a special guest was in the house, and I heard murmurs among fellow audience members as to who it might be. Soon we heard an invitation shouted out to "Miss Chaka Khan" to come take the stage. The audience response was a huge rush of enthusiasm for "the queen of funk." She instantly showed herself to be an incredibly dynamic performer, as Dumpstaphunk, which had already been playing at a high level, raised their performance to a pinnacle for the rest of the night. The crowd on the dance floor, eager all night to work out, was going like blazes now. Chaka Khan played the most believable and scintillating air guitar I've ever seen, or "heard," as I hope the photos with this post will attest.
After one song with Chaka Khan, Dumpstaphunk played a couple more numbers, and left the stage full of thanks and bows to the audience, while the crowd gave the love right back. In fact, this seemed to be one night when an encore was really not in the cards, as several minutes of hooting and foot-stomping had not produced a return of the band. Finally, they re-emerged from backstage, playing one more song to close out the evening, with Tony Hall gesturing to us and raising his hands high in calling forth participation from the exhausted and still dancing crowd. When I saw friends on the floor at Javits the next morning, we all agreed it had been one of the best PGW parties ever.
—
http://philipsturner.com/wp-content/uploads/2016/11/GGB_Logo.png
0
0
Philip Turner
http://philipsturner.com/wp-content/uploads/2016/11/GGB_Logo.png
Philip Turner
2012-06-10 00:16:50
2012-06-11 12:53:33
Dumpstaphunk & Chaka Khan in a Funky Groove at PGW's BEA Party