When I look at the dashboard for this website I feel as I've lifted the hood of a car and am peering in at all the belts and fans and cables. The difference is that just two months shy of a year since I started The Great Gray Bridge, I pretty much know what's going on under its hood, whereas with an automobile I never will. One thing the dashboard shows at a glance is how many posts I've published, counting from the very first one I put up October 30th last year. As you can see from the screenshot pasted in below, a handy counter shows that the next post I put up–this post, in fact–will be my 300th since the blog's inception.

While I concede that the recognition of benchmarks like this one is only as important as we make them, I want to pause a few moments over this milestone. In ten months as a (near) daily blogger, what have I learned?
1)  I now know for sure that by last fall–nearly three years after I had stopped working as an editorial director for a major publishing house–I missed having a list of new books to acquire, edit, package, and assemble for each new publishing season. I wanted something to curate, a garden of words and enthusiasms to plant, tend, and share. This blog has allowed my curatorial instinct to bloom again.
2) I know for sure that I am fortunate to have a loyal cadre of readers who, over the past several months on average, number between 850-1100 unique visitors to the site every day. I also know that my readers–you–average three pages viewed on the site during each visit. I am very grateful for this attention to what I write and post and pledge to keep writing and posting with the frequency and variety that I have done for the past ten months, hopeful that the time spent here you regard as well-rewarded.
3) I see from the second screenshot shown here that the categories forming the super-structure of the site, with each new post being assigned one or more categories under such rubrics as Art, Film, Photography, Design; Books & Writing; Canada; Media; Music, Bands & Radio; Publishing & Bookselling; and Urban Life, New York City & Bicycling, to name only a handful of the fifteen total–form a telling cross-section of my interests and what I'm covering. The bookish buckets, Books & Writing and Publishing & Bookselling, combine to comprise two of the most heavily populated categories, with 138 and 55 posts respectively, while News, Politics & History clocks in at 101 (sure to keep growing as the fall political campaign heats up). Meantime, my musical mission is highlighted by the 68 posts falling under Music, Bands & Radio, with many of those overlapping with the 50 I've assigned under the category, "Canada," whose indie music scene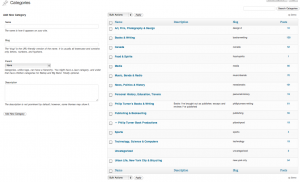 I follow closely, as fan and blogger.
I've recently added a couple new categories–Sports and Food & Spirits, and tacked Bicycling on to the Urban Life, NYC category, as I had earlier omitted it. Considering that I bike approximately 40 miles per week in the city, during which I get some of my best blogging ideas and have adventures I later write about, I'm going to be blogging about biking from time to time, especially as biking becomes a civic and political issue in Gotham, with the BikeShare program due to start in 2013.
Another recent addition is the page at the top of the site called PT–Personal, a biographical sketch that is a counterpart to PT–Professional. In the former I chronicle my personal history from teenage years in Cleveland to the point at which I became a bookseller and editor, covered in the latter page. I will also soon be creating a page called PT–Photographs, where I'll be posting pictures relevant to my personal history and pursuits.
Whether this is your first time on my site, or if you're a frequent visitor, thanks for dropping by and spending time here. Please feel free to comment and share, or just to poke around and read. You needn't leave any footprint at all, as I know that many readers prefer not to.
I want to close this 300th post by saying that in the build-up to what will be the one-year anniversary of the site in October, I will also be marking the 80th anniversary of the opening of the George Washington Bridge, aka The Great Gray Bridge, which I've previewed in this post. I invite you to check back again soon.
http://philipsturner.com/wp-content/uploads/2016/11/GGB_Logo.png
0
0
Philip Turner
http://philipsturner.com/wp-content/uploads/2016/11/GGB_Logo.png
Philip Turner
2012-08-27 17:24:30
2012-08-27 17:24:30
300th Blog Post