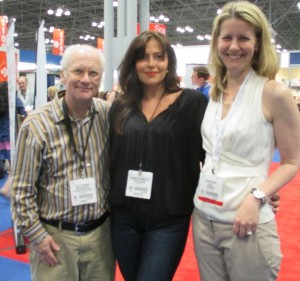 One of the things I love about BEA is the prospect of serendipitous meetings. One spontaneous encounter I had during the convention at the beginning of June was when I bumped in to a friend, the literary agent Laura Nolan, who was on the floor at the Javits Center with her author client Dagmara Dominczyk, whose first novel, The Lullaby of Polish Girls, is out from Speigel & Grau this month. We got to talking, and soon Dagmara's publicist from Random House took this picture of the three of us with my digital camera. Here Dagmara is in the center, between me and Laura.
Her novel has drawn lavish praise from fellow writers and Dominczyk was the subject of a NY Times Style section profile last Sunday, centered on her recent reading at WORD bookstore in Brooklyn's Greenpoint neighborhood, an historically Polish enclave, an event that became a homecoming for the novelist.
When I read the Times story about the reading at WORD I was relieved to find one of the least snarky pieces I've read in the Style section. I find that part of the paper has a pronounced predilection for snark and sarcasm, and I often avoid it entirely.  (See the recent story on tech change agent Rachel Sklar, which framed her new entreprise that seeks to "change the ratio" of women in tech, as her "trying" to become an entrepreneur). Even while the article on Dagmara likened the attractive author and her sisters to the Gabor sisters of the 1960s, and highlighted her marriage to actor Patrick Wilson, it didn't stint on informing readers that Dagmara, 36, had attended LaGuardia HS, the Manhattan high school of the performing arts, and moved to Greenpoint with her sister where she wrote her novel, after she got her first really good movie role.
LaGuardia happens to be where my teenage son Ewan will be a senior in the fall, also in the drama department, but that's not the only coincidence I found in the story: Dagmara's big break came when she got a lead role in the 2002 version of "The Count of Monte Cristo"  This is a genre–the swashbuckler–that I love.  Additionally, I  am about to begin offering to publishers a terrific proposal for a new anthology of swashbuckling fiction.  It will naturally include selections from Alexandre Dumas, whose own father is the subject of Tom Reiss's 2012 Pulitzer-winning biography, Black Count: Glory, Revolution, Betrayal and the Real Count of Monte Cristo. It is kind of an eternally sturdy genre.  Cultural consumers always seem ready to take in and enjoy a new swashbuckling book or film.  In the proposed anthology, editor Lawrence Ellsworth will include a new Dumas translation of his own, along with pieces by Rafael Sabatini (author of Captain Blood and Scaramouche); Johnston McCulley (creator of Zorro), Anthony Hope (Prisoner of Zenda); Baroness Orczy (The Scarlet Pimpernel); Arthur Conan Doyle, and about 15 great and ripe-to-be remembered writers.
All that from a meeting on the convention floor! It's things like this that keep the book business fun.
Here are the great advance comments that Dagmara's book has received, from Emma Straub and Adriana Trigiani, who introduced Dagmara at WORD.
"The Lullaby of Polish Girls is a striking and vivid debut novel, absolutely buzzing with energy. Dagmara Dominczyk's freshly observed story about the intertwined lives of three friends is both sexy and sensitive, with a raw, openhearted center. Dominczyk's love for her complicated characters is apparent from the first page to the last, and by the novel's end the reader cares for them just as deeply."—Emma Straub, author of Laura Lamont's Life in Pictures
"The Lullaby of Polish Girls will make you swoon. Dagmara Dominczyk has written a glorious debut novel inspired by her own emigration from Poland to Brooklyn with depth, intensity, humor, and grace. Dagmara is a natural-born storyteller. I'm crazy about this book, and I know you will be too."—Adriana Trigiani, author of The Shoemaker's Wife
I wish Laura and Dagmara much success with the book.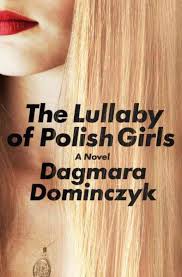 http://philipsturner.com/wp-content/uploads/2016/11/GGB_Logo.png
0
0
Philip Turner
http://philipsturner.com/wp-content/uploads/2016/11/GGB_Logo.png
Philip Turner
2013-06-20 11:00:44
2013-06-20 18:33:05
Serendipity During Book Expo America