I tweeted this message last evening with a link to a trailer for the NY premiere of a new documentary I was heading out to see at the Lincoln Society Film Center.
Excited to see the new doc 'Born in Chicago' narrated by Marshall Chess w/Muddy Waters, Howlin' Wolf, Mike Bloomfield http://t.co/qYdmZ2F6KP

— Philip Turner (@philipsturner) July 26, 2013
The screening was for "Born in Chicago," a new 90-minute doc on the blues. It was a thrill for Kyle and me to be there. We had learned about the one-night showing from a NY Times article yesterday that began like this:
"Late in his career, Muddy Waters recorded a song called 'The Blues Had a Baby and They Named It Rock and Roll.' That, in a nutshell, is the story told in the new documentary "Born in Chicago" — how he, Howlin' Wolf and other black blues musicians working in Chicago in the 1960s schooled young white acolytes from that city who went on to play on some of the most influential pop recordings of the era."
After reading the paper we quickly went online and ordered tickets for the lone screening, luckily for us because when we arrived it had clearly sold out. It is a joyous film with superb archival footage, moving interviews, and high-quality audio of many great blues performances. It also narrates a moving story about how aspiring teenage musicians like guitarist Mike Bloomfield and keyboard player Barry Goldberg, from affluent parts of Chicago, began frequenting the clubs and bars where black titans of the blues like Muddy Waters and Howlin' Wolf were then in residence, well on to being the blues legends they ultimately would be known as. Despite their age–Bloomfield was only 17 at the outset in 1960–co-producer Goldberg chronicles the time the two boys borrowed Michael's mother's car, drove through the all-black neighborhoods on the South Side to the club, which was called Pepper's, I believe. They found parking "four steps from the front door," made their way to a front table, and began listening to the masters. Gratified by the respect shown them and their clear eagerness to learn the music, the musicians soon invited them to sit in with the bands and a fruitful and historic musical collaboration was born. The generosity of Muddy and Wolf, with their sidemen like Willie Dixon, Sam Lay, and others became a hallmark of the era. And, the youngsters really learned to play.
Goldberg recalled that soon when Otis Spann, who often played piano in Muddy Waters' outfit, was invited to go on the road with another big bluesman of the time, say Little Walter, he was able to take the job because Barry could sit in and play keys for Muddy while Spann was out of town. The bench of blues performers in Chicago got a lot deeper.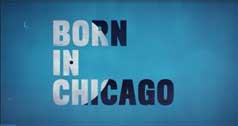 Among the musicians interviewed for the film are Bob Dylan, who later hired Bloomfield and Goldberg for his backing band; B.B. King, who remembered Bloomfield as one of the best guitarists he ever heard; Keith Richards, who with his Rolling Stone bandmates are shown here in hilarious footage with Muddy Waters and Mick Jagger (in a bright red track suit) swapping lead vocals; Buddy Guy, who we learn would stroll out the open door of a blues club playing his electric guitar on a "100-foot long chord" to make music right out in the streets; Hubert Sumlin, lead guitarist with Howlin' Wolf, who's shown here with the aid of medical oxygen, in what would be his last taped interview; Eric Burdon of the Animals, who remembers that growing up in Newcastle, England, new blues albums from Chess Records would arrive in local record stores, allowing him and his bandmates to hear and then play the blues; Charlie Musselwhite, a white southerner who migrated north to Chicago for factory work and soon found himself ensconced in a blues community; Elvin Bishop, who like Mike Bloomfield played in the Paul Butterfield Blues Band, and who tells such tales as wandering in to a Chicago pawnshop to buy a new guitar, and being waited on by young Bloomfield; Nick Gravenites, who wrote a signature song of the Butterfield Band, "Born in Chicago"; Harvey Mandel, who played in Canned Heat, with John Mayall and the Blues Breaker, and Bob Dylan; Sam Lay, drummer with many of the great blues bands; Jack White, who spoke about the influence of the blues on his music and the challenges young artists face today in gaining access to, say, senior players, in hip-hop or rappers, especially.
In the audience last night were "Born in Chicago" director John Anderson; Chicago bluesman Corky Siegel, of the Siegel-Schwall Band; Marshall Chess of Chess Records, who narrates "Born in Chicago" (not his late father Leonard, as I had mistakenly tweeted); and co-producer of the film, Barry Goldberg. After the film they took seats in front of the audience and Siegel played a blistering harmonica solo, which got everyone pumped for the spirited conversation and Q&A session that followed. During the Q&A, Marshall Chess recalled how eager he was to make an outpost in Britain for Chess Records by forging a relationship with record distributors there. Chess also remembered that Howlin' Wolf could be stern with a musician who played a wrong note, but was also a gentle giant. Corky Siegel remembered that between sets of music outside of clubs such as the Blue Flame he and Wolf would talk, sip whiskey, and walk the nearby alleys. Siegel said that Wolf's generosity showed him the blues is not just about music, but a way of living one's life, with love and freedom.
The film's theatrical release is still being plotted by the producers. It clearly warrants widespread distribution and I expect it to have major exposure in the months to come. In the meantime, I suggest you 'like' their Facebook page, read this Chicago Blues Guide review of a recent reunion concert that brought together many blues musicians from the film, read Larry Rohter's NY Times story from July 26 and view the accompanying slideshow of great B&W photos, share the above trailer widely with your friends. Here are photos I took after the screening and shots of some of my treasured blues LPs from Chess Records and one I've had for years by the Siegel-Schwall Band.
Since you got all the way down here in this post, you must love the blues. So, I recommend my personal essay about Cleveland bluesman Mr. Stress, who I wrote about in the book Rust Belt Chic: A Cleveland Anthology. Stress was a great local bluesman I followed all the drinking-age years I lived in my old hometown, from 1972 to 1985. A harmonica player, singer, and bandleader Stress was the Paul Butterfield of Cleveland. He still lives in Cleveland.
http://philipsturner.com/wp-content/uploads/2016/11/GGB_Logo.png
0
0
Philip Turner
http://philipsturner.com/wp-content/uploads/2016/11/GGB_Logo.png
Philip Turner
2013-07-26 18:45:31
2017-07-10 13:30:46
Great New Documentary on the Blues, "Born in Chicago"