Excited tonite for #Blowback launch party w/@ValeriePlame. Also seeing Amb Joe Wilson. No redactions required on this book! @BlueRiderPress

— Philip Turner (@philipsturner) October 2, 2013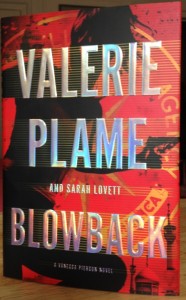 Kyle and Ewan and I had a great time last night at the book party for Valerie Plame's terrific new spy novel Blowback, co-authored with Sarah Lovett. I had picked up a galley of it at BEA last June, and really enjoyed it a lot. I'd been looking forward to the party for some weeks, as in 2003-04 I edited and published The Politics of Truth–A Diplomat's Memoir: Insider the Lies that Led to War and Betrayed My Wife's CIA Identity by Valerie's husband, Ambassador Joseph Wilson. It was going to be a treat to see Valerie and Joe last night.
Joe and I had last met up in 2010 when he was part of a New York Times panel that included Nora Ephron, Anna Devere Smith, Roy Blount, Jr., and Garrison Keillor marking the 25th anniversary of the Times' Op-Ed pages. It was moderated by then Op-Ed page editor David Shipley*, who invited Joe because he judged Joe's July 6 2003 op-ed  What I Didn't Find in Africa had been one of the most historically significant columns the newspaper published that decade. It led to the Bush administration's repeated disclosures that Joe's wife Valerie Plame was a CIA official and years of flimsy denials that the administration had doctored the intelligence that fueled their false claims about WMDs in Iraq, enabling the unjustified invasion of the country.
Publishing The Politics of Truth was a high-wire act for Joe, for me and for Carroll & Graf that lasted over a year. In July '03, I heard about it right away when Valerie's CIA employment was reported by columnist Robert Novak. A few weeks later indie book publicist Barbara Monteiro connected me with Joe. She had earlier worked on the book I did with Whitewater heroine Susan MacDougal. Barbara knew my sense of justice would've been offended by what was being done to Valerie, and Joe. He had been writing opinion columns about Bush's misguided rush to war and was already thinking of writing a book. We quickly made a deal and got to work while the news story swirling around Valerie and Joe grew and grew.
Right off the bat, we were fortunate in that before retiring from the State Dept in 1998, following 25 years in the foreign service, Joe had sat for a full oral history of his career. He had the transcript and used it as an aide-mémoire and the basis of the historical portions of the book, later justifying our use of two subtitles on the front cover and spine! With this foundation, Joe then wrote practically every day and in February '04 he delivered an excellent 150,000 word manuscript to me. C & G leapt in to action, as colleagues from several departments and I line-edited, copyedited, designed, typeset, indexed, and produced the book on a "crash" production schedule, for planned release only four months later, in what was going to be May '04, less than a year after Novak's column. From a marketing and strategic standpoint, it was like riding a tiger.
The toughest part of this as a publishing proposition was that though the story had only gotten bigger over the intervening months–and while we knew we'd be able to book Joe on tons of media–at the same time we wondered and worried:
What will be the state of the journalistic investigations and of the federal grand jury hearings looking into the unauthorized disclosure when we publish the book?
How can Joe in the book, in his public statements, and we in our press materials take advantage of new developments while still conforming to the latest important news?
How could we take advantage of breaking news but not have Joe get too far out on things that were constantly shifting?
Of course, for Valerie and Joe it was more than a publishing proposition, it was their lives. This was a dynamic in publishing a book I had never encountered before, a delicate strategic challenge. I was already a highly-tuned-in-to-news-person, especially after the 2000 presidential election and 9/11, but this tendency became even more pronounced the year I was working every day on Joe's book. The book sold more than 60,000 copies in hardcover and spent more than a month on the NY Times Bestseller list. I have written about the lessons I learned working on it a number of times on this blog, in such posts as "Hubris"–10 Years Later, Run-up to the Iraq War Still Shadows the Media & the U.S. and On the Imperative of Publishing Whistleblowers.
Last night's party for Valerie and Sarah Lovett was hosted by director Doug Liman, author Naomi Wolf, and producer Avram Ludwig. Liman had directed the 2010 movies "Fair Game" with Naomi Watts and Sean Penn, based on Valerie's 2006 book, Fair Game: My Life as a Spy, My Betrayal by the White House and on The Politics of Truth.
We enjoyed meeting the three co-hosts and many of our fellow guests. Among the latter group was one of my favorite suspense writers Lee Child, with whom we happened to ride up in the elevator. About Blowback he's said: "Great storytelling, real insider authenticity, and above all a fascinating main character in Vanessa Pierson. And maybe those initials are not a coincidence–sometimes fiction can reveal things nonfiction can't." The latter part of Child's blurb–and the reference to "redaction" in my tweet above–are rueful nods to the unfortunate fact that Fair Game was heavily redacted by the Bush-era CIA, and though it had a well-reported Afterword by national security reporter Laura Rozen, the blacked-out passages inevitably left readers in the dark in many areas. I've included three of Child's books among my weekly #FridayReads essays, including Worth Dying For, a true corker of a suspense novel, the first of Child's Jack Reacher books that I read. His latest is  Never Go Back, which I am eager to read. Guest Maggie Topkis–longtime co-proprietor of the NYC mystery bookstore Partners and Crime who nowadays works with Lee Child–told me she thinks it's his best book yet, which is saying a lot.
I met co-author Sarah Lovett, and told her how much I'd enjoyed reading Blowback. From Blue Rider Press, I congratulated David Rosenthal, Valerie's publisher, and Executive Editor Sarah Hochman. I was also glad to see the two sides of the recent Penguin Random House merger well represented, with Kent Anderson, a sales rep from Penguin (now Penguin Random House). He had been with Publishers Group West, distributor for Carroll & Graf, when I published The Politics of Truth there in 2004. With Kent, I saw Madeline McIntosh, COO of Random House, a senior executive in the merged company. I liked that she had come to this book party for a key title of a Penguin imprint.   
I was also glad to see book biz pal Will Schwalbe*, who after a distinguished publishing career has made himself in to a successful author most recently with The End of Your Life Book Club, which I wrote about here. Will explained that he and Naomi had been old college classmates, and said how much he'd enjoyed her poetry from those years. Naomi seemed touched by that. Will graciously introduced me to Naomi who asked how I had come to know Joe and Valerie, at which I mentioned The Politics of Truth. She said how glad she was to be able to show special support for Valerie and her new book. Those comments were echoed when a few minutes later she and Doug Liman convened the gathering for toasts and congratulations. Liman gestured toward a nearby portrait of his late father, the prominent lawyer Arthur Liman, a pivotal player in the Iran-Contra scandal, who served as chief counsel to the Senate committee that investigated the Reagan's administration's notorious arms-for-hostages conspiracy. The younger Liman cited his father's example as an inspiration to him in working with dedicated public servants like Valerie and Joe.
After the toasts, I approached Joe once more. As we chatted Ewan took a picture of the two of us. Here it is, along with a few others from last night. It was a fun book party, full of literary highlights that I'll be savoring for days to come. The three of us were very happy to be a part of the celebration.
If you're looking for realistic and pacy suspense fiction with a smart and appealing female protagonist, I highly recommend Blowback , the first of a series featuring covert operative Vanessa Pierson. Valerie has done lots of media this week including "Morning Joe" (See video below.) One of Valerie's next stops is going to be in Washington, DC this Friday night, October 5, when Laura Rozen will be interviewing her at Politics & Prose Bookstore.

*Will Schwalbe's first book, SEND: Why People Email So Badly and How to Do It Better was co-authored with the same David Shipley– Joe Wilson's Op-Ed editor and moderator of the NY Times panel with Joe, Nora Ephron, etc.
http://philipsturner.com/wp-content/uploads/2016/11/GGB_Logo.png
0
0
Philip Turner
http://philipsturner.com/wp-content/uploads/2016/11/GGB_Logo.png
Philip Turner
2013-10-03 14:59:03
2013-10-09 15:24:16
Celebrating Valerie Plame's "Blowback" & Recalling Tumultous Events of a Decade Ago