#FridayReads Mother Daughter Me, @KatieHafner's instantly engrossing memoir of her sandwich household. Lucid, w/object lessons for us all.

— Philip Turner (@philipsturner) September 28, 2013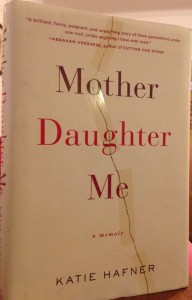 I began reading Katie Hafner's journalism in the NY Times in the '90s in what was known as "Circuits," a section of the Thursday newspaper that covered the era of Web 1.0. Everything about tech was new, to me at least. Katie, and "Circuits," helped make obscure things clear to me, then a not very tech-oriented book editor. Around 1999 I read a cover story Katie had written for Wired magazine and now I was really smitten by her work. Her story was a long one by magazine standards, about 40,000 words, on The Well, an early online community that emerged in the Bay Area starting around 1984. I was amazed–members of The Well had used a kind of proto-listserv and chat system that allowed them to share cyberspace together in a way no one had done before. But that historical first-ness wasn't the only reason I wanted to make Katie's article in to a book if I could. It was because of the extraordinary insight in to people that accompanied her reporting. In its early days, The Well had been a tight world where members supported each other like neighbors in a small town. They abided by founder Stewart Brand's credo, "You own your own words." Katie's narrative, with used long threads of online conversations including multiple characters that the reader came to know and care about, was riveting.
In 2000–after a three-year stint for Random House, where the bulk of the time I worked at Times Books, with a big part of my job liasing with editors at the Times to make books with content from such departments as the Book Review, Real Estate, City, and Dining–I joined Carroll & Graf Publishers and contacted Katie with one of my first new book acquisition ideas. I asked if she'd be interested in turning the Wired article in to a book. I remember one day when she was in NYC from the Bay Area we met for coffee near Times Square. She was petite and had a great smile; I found her immediately likable. She talked like the voice of her journalism: a bit funny, and economical with her words that every so often sported a memorable phrase. Though she had not been trying to turn the Wired reporting in to a book, she was intrigued with my idea, and we made a deal to go ahead with it. I edited it with her revising and expanding the manuscript a bit and in 2001 we brought out The Well: A Story of Love, Death & Real Life in The Seminal Online Community. Among the many superb endorsements we printed on the back cover was this one from the proponent of communitarian philosophy Amitai Etzioni: "The best book ever written about communities and the Internet." The book didn't set any records, but it did well enough to justify C&G's investment in it, and I was quite proud of it, as I believe Katie was, especially once the World Wide Web became such a big part of modern life that it was hard to remember a time before it existed. For anyone who wanted to know the prehistory of online interaction, it was right there in The Well.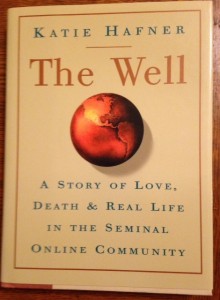 After the book had run its course, Katie and I stayed in touch, but only occasionally. In 2002 I was startled and saddened when I read that her husband Matthew Lyon had died suddenly while on a visit to Seattle for his job with the University of California. He was 45. Katie and their young daughter survived him. I found something to say and wrote her a card with my condolences, grieving with her from a distance.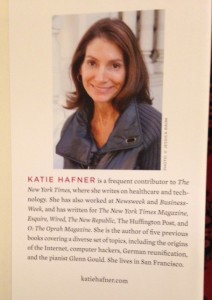 Last year, I read that Katie would be publishing a memoir with Random House. I was excited because I had never read anything by Katie about her own world. Mother Daughter Me came out in July and I was thrilled when I got a copy two weeks ago. After making it my #FridayReads last week, when I was only a little ways in to it, I now can say that it is gripping throughout, and likable, like Katie, even while it chronicles some pretty difficult and sad but ultimately transcendent Hafner family business. It begins with her mother's move from San Diego to be with Katie and her now-teenaged daughter in San Francisco. I finished it the other day during a break while on a bike ride, and scrawled these words on a piece of scrap paper, anticipating I would use my first impressions in this #FridayReads essay:
"Exquisite, in many senses. Exquisitely painful, as it recounts the failures of her drink-addled mother to provide parental stability for Katie and her older sister when they were young. Exquisitely produced and edited with nary a typo or broken letter in the volume. Exquisitely truthful and unflinching in the way Katie examines her own behavior, no less than that of her mother and her daughter. As good a reporter as Katie is when writing about other people, she is somehow even more insightful and penetrating when the subject is herself, her widowhood, and her own family. I walked with her every step of the way on the difficult journey that she takes with her mother and daughter and am very glad I did. An amazingly honest book."
I recommend Mother Daughter Me to anyone who's still trying to riddle out truths about their family; to anyone who's ever argued with a sibling, child or parent; to anyone with an aging parent who ponders future options for them, from living with you to "aging in place," a term you will encounter here. I will add that like a particular Vaughan Williams symphony that I love–I believe it's his 6th–this book winds up with a beautifully orchestrated cascade of multiple endings that transit from tragic to reconciled to fulfilled. If you're like me, your eyes will be very moist as you finish reading Mother Daughter Me. This is a great book.
http://philipsturner.com/wp-content/uploads/2016/11/GGB_Logo.png
0
0
Philip Turner
http://philipsturner.com/wp-content/uploads/2016/11/GGB_Logo.png
Philip Turner
2013-10-05 00:23:07
2013-11-11 23:37:54
#FridayReads, Oct. 4--Katie Hafner's Exquisite Memoir "Mother Daughter Me"