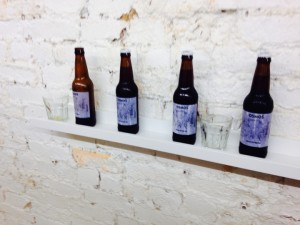 A fascinating slice of synchronous civic history was on display on the Lower East Side of Manhattan recently. At 50 East First Street, on a one-of-kind block tucked just north of East Houston, is a new gallery/activist venue called OSMOS Address. Kyle and I enjoyed the exhibit at the purpose-driven space run by socially conscious curator Cay Sophie Rabinowitz. The show features the paintings of Peter Dreher, who for forty years has devoted himself to painting domestic objects—a water glass and a chalice, for instance—in an ongoing series of meditative still-life works. Along with Dreher's mesmerizing paintings, the evening offered visitors to the gallery the chance to taste a savory reddish pale ale—brewed by Austin Thomas, artist, gallerist and craft brewer—with aromatic fresh-baked bread from Table on Ten in Delaware County, New York, each small loaf sporting a sprig of rosemary—serving as an earthy tasting companion to the ale.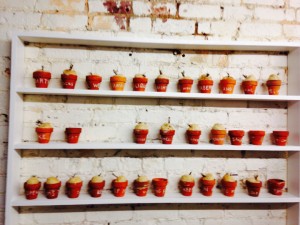 Quoting from a handout distributed at OSMOS Address, the small batch ale was brewed as part of an homage called "Beer on Sunday," honoring a distinguished nineteenth century tenant of this same address, "a German-American anarchist named Justus Schwab, who kept a 'Beer-hole'. . . where writers, artists, radicals and other misfits met to drink and talk in to the night."
The free-thinking anarchist Emma Goldman (1869-1940) knew Schwab well and said this about her close friend:
"Schwab was the traditional Teuton in appearance, over six feet tall, broad-chest, and strait as a tree. On his wide shoulders and strong neck rested a magnificent head, framed in curly red hair and beard. His eyes were full of fire and intensity. But it was his voice, deep and tender, that was peculiar characteristic. It would have made him famous if he had chosen an operatic career. Justus was too much the rebel and the dreamer, however, to care about such things."
A reprinted article on hand, originally appearing in the New York Times of March 7, 1879, chronicled a criminal trial in which Schwab was the defendant. He had been arrested at 50 East First on July 22, 1878, accused with dispensing alcoholic beverages at his Beer-hole shortly after the clock turned midnight and ticked over in to that early Sunday morning. Arrested at 12:15 am, Schwab was charged with a violation of Sunday closure laws—aka "blue laws"—a sign of churches' influence on local regulations, which were still on the books in many municipalities well in to the twentieth century. Hearing the case, a three-judge panel found in Schwab's favor, pointing out that the law as written forbade the serving of alcoholic beverages between one o'clock and five o'clock in the morning, and made no mention of midnight as the cut-off. Schwab was acquitted and the judges ordered court costs to be paid to him by the arresting officers. A pretty big win for the activist who not only kept beer taps in his establishment, but also operated a printing press with which he issued broadsides and political pamphlets in service of the causes embraced by Emma Goldman and other radicals of the time. The plaque about Schwab at 50 East First Street relates a friendship he shared with keen misanthropic writer Ambrose Bierce, a writer primarily identified with San Francisco, whose later disappearance during the Mexican War remains a mystery. I was unaware he had spent time in NYC.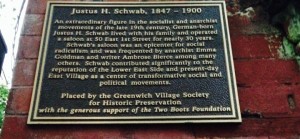 Cay Sophie Rabinowitz and Austin Thomas presented all this lore alongside the works of Peter Dreher in an adroit blend of hitherto hidden history and adventuresome aesthetics. I look forward to attending other events at OSMOS Address—where Rabinowitz told us she plans to set up a printing press—and at shows put on by Austin Thomas of Pocket Utopia. Kyle and I also enjoyed meeting longtime residents of 50 East First Street, artists Christin Couture and William Hoise, keen appreciators of nineteenth century aesthetics and collectors of objects and antiques from the era.
http://philipsturner.com/wp-content/uploads/2016/11/GGB_Logo.png
0
0
Philip Turner
http://philipsturner.com/wp-content/uploads/2016/11/GGB_Logo.png
Philip Turner
2014-05-28 10:39:37
2014-05-28 23:28:37
Blending New York City History, Anarchism, Contemporary Painting, and Home-brewed Ale