It's ironic that while DEMs are worrying, pondering, and agonizing over whether our own nominee will be able to defeat the likely Republican nominee Trump, it suddenly seems, with Mitt Romney giving his well-written and well-delivered throw-down speech, they are from their upper echelons really finally going to try and prevent Trump from becoming their candidate. I've even noticed that neocons are massing to knock Trump out on national security grounds. I see the Party as an institution trying to muster all its internal cohesion to try and in a coordinated way deny Trump the nod, and stop what they see as a foreign invasion of the party, even with the dangers this entails now. To risk the all-out civil war that will erupt in their ranks, I believe the Rs may have internal polling and election models that show them definitely losing the presidency by a large margin, also the Senate, and even putting at risk their House majority with Trump at the top of the ticket.
The irony I began this post with applies as I end it: worried though DEMs are about vanquishing Trump and his strange celebrity charisma, it's also possible that the Republican panics signifies what few DEMs fully believe, nervous as we are. If we do oppose Trump, we may defeat him in a landslide. If he is denied the nomination over the next few weeks, next we can worry about being deprived of the opportunity of running against him. If so, then we can begin imagining who might lead the Republican ticket—one of the remaining three, Cruz, Rubio, or Kasich—or someone as yet undeclared. Paul Ryan? Mitt Romney, again?
Meanwhile, DEMs of which I am one, will continue watching from the sidelines, with steadily rising anxiety, much more severe than in other election years, and much earlier in the cycle than is typical. We have eight months to go, and every day brings another menacing bizarreness.
Here's a screenshot the first few paragraphs of Romney's speech today. For the complete text, you may click here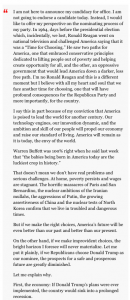 .
http://philipsturner.com/wp-content/uploads/2016/03/Romney-speech.png
909
394
Philip Turner
http://philipsturner.com/wp-content/uploads/2016/11/GGB_Logo.png
Philip Turner
2016-03-03 14:20:50
2016-03-03 15:25:38
The Republican Establishment Tries Striking Back, Finally