I'm glad the Public Editor at the NY Times Margaret Sullivan has harshly criticized the paper's flawed reporting in a Dec 12 article that conflated and badly confused the messaging activity of the San Bernadino shooters with their social media posts, though I wonder with a rueful what good it will do now, with the false accusation already raised by Ted Cruz at Wednesday's debate that the Obama admin had supposedly overlooked public posts showing a radical bent, when what the government didn't know about were actually the conspirators' private messages. The latter are a form of online expression that no surveillance methods under discussion in the United States would have seen, nor been able to prevent the plot from unfolding. One thing that might've prevented it—more hurdles to buying weapons and explosives—wasn't even mentioned at the debate. Editors' Note be damned, the Repubs will surely continue to use this falsehood to attack the president, Hillary, and all DEMs. The New York Times is so often infuriating and disappointing in its coverage. Its very importance, which I concede, makes it all the more important that they stop making errors like this, but they seem to happen every few weeks. You can read the original article at this link, which now has the Editors' Note appended to it at the bottom; and Sullivan's column at this one, or in the screenshots below.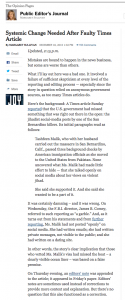 http://philipsturner.com/wp-content/uploads/2015/12/Margaret-Sullivan-I.png
1092
455
Philip Turner
http://philipsturner.com/wp-content/uploads/2016/11/GGB_Logo.png
Philip Turner
2015-12-18 20:53:35
2015-12-18 20:53:35
A Welcome Rebuke of the NY Times by its Public Editor Prompts the Question "Why Does this Keep Happening?"