SATURDAY MORNING TV UPDATE: On Feb 15 the Sam Roberts Band will appear on CBS This Morning as part of their 'Saturday Sessions' series. According to press materials, they should go on at 8:45AM.
—-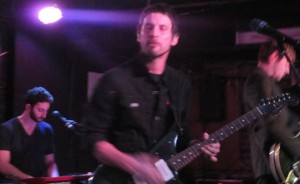 Had a blast Tuesday night as the Sam Roberts Band of Montreal blew into town for one night to launch their terrific new album "Lo-Fantasy," drawing a boisterous crowd to a sold-out Mercury Lounge. It was my first time hearing them live, after years of enjoying their music on CBC Radio 3. They are a tight rock n' roll machine, starting with a tremendous rhythm section of of bassist James Hall and drummer Josh Trager, who played on a clear see-through kit allowing the audience to peer through the armature and really see him bashing away on the skins. I stood directly in front of Hall and Trager, and for the first half of the show I thought maybe that was why they sounded so good, then I decided, nah, they're just great players. At center-stage was frontman Roberts, a small guy and a powerful rock n' roll package–a handsome man and a lithe performer who bursts with vocal energy while striking insistent guitar chords, and moving around a lot on stage. On the far side of him from me were a keyboard player, lead guitarist, and saxophonist. The 6-piece outfit ripped through the 11 songs on the new album. Several I had heard already, like "We're All In This Together"–with good lyrics expressive to me of a communitarian ethic. There's an extended video of it below, and the process of making the new album. Once they worked through the new record, they took a bow and left the stage. It was clear though they'd be back for more. When they came back out for encores, they really gave the crowd full value, by playing another four songs, all from earlier albums. The sound was a mix of pure pop propulsion–most songs were uptempo, driven by the bass and drums–with Roberts' vocals and strong riffs and tasty licks from the other three instrumentalists.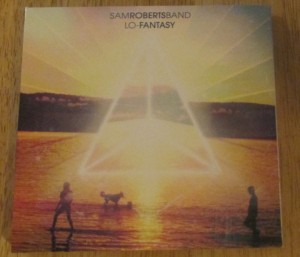 Yesterday was Paperbag Records' official release date of "Lo-Fantasy." They put out many of my fave Canadian bands, like Elliott Brood, Cuff the Duke and Rural Alberta Advantage. Sam Roberts is well known beyond Montreal and Canada, with the current tour taking him and his band to many US cities between now and March 28: Chicago; Grand Rapids, MI; St. Paul; San Francisco; San Diego; Seattle; Portland; Boston area; Washington, DC; and Philadelphia, where they'll be playing World Cafe Live, a show that I'd bet will end up on public radio here in the States.
Just arrived in time for Heaven's Jail, opening act for @samrobertsband sold out show tonite @MercuryLoungeNY. pic.twitter.com/vUg82m48Kd

— Philip Turner (@philipsturner) February 12, 2014

As good as Sam Roberts Band turned out to be, I also liked the opening act, Heaven's Jail. I walked in as they started and was glad I had arrived on time. Love when that happens at a live show, walking in on the first notes to a new sound that's immediately likable. Going to hear live music ought to be as much about discovering new bands as hearing longtime faves. Mercury Lounge did a smart thing booking them as the stage-setter for the evening. Based here in NYC, they're a basic drums/bass/lead guitar trio, and so offered a clean sonic appetizer that went down real easy. For reference, their sound reminded me in the vocals of Warren Zevon, and in their bright jangling guitar-driven riffs they made think of the Felice Brothers from upstate New York who I heard open for Josh Ritter last year. Heaven's Jail also have a current album, "Angelmakers," which you can hear at their bandcamp page. I look forward to hearing them again.
After the Sam Roberts Band left the stage for the last time, a lot of the crowd melted away in to the cold NY night. I had already met some great people during the course of the long evening–like Emily Curran, a NYC schoolteacher who had seen Sam Roberts several times–so I stuck around, eager to meet other folks who'd enjoyed the evening, either from among the audience or the musicians. It being a release party it's no surprise there were lots of music industry people on hand, like Ben Liemer of music distributor The Orchard who I really enjoyed talking with. Next I recognized two of the three members of Heaven's Jail, and so chatted with them–Francesco and Ethan, guitarist and drummer. I complimented them on their set and we launched in to a spirited discussion of our rock n' roll upbringings. I mentioned mine in Cleveland, and the great shows I was able to see in my early days as a live music fan, beginning with a Canned Heat and Cream bill back in the day. These conversations–plus one in a group with Sam Roberts' brother Tom, who I learned lives in NY, and with his friend Jim, a bass player, capped off a fun night.
Via this link are more pictures from last night's show, two black & white publicity shots of the Sam Roberts Band, and two videos of them performing.
Cross-posted at my blog Honourary Canadian.