[Editor's Note, Feb. 22, 2013: The post below is a revised version of a piece I published on Feb. 22, 2012, the last anniversary of Edward Robb Ellis's birthday.]
—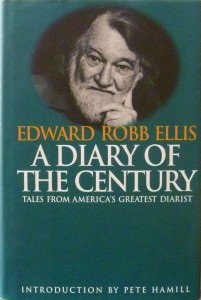 Entries from A Diary of the Century by Edward Robb Ellis, about whom I blogged earlier today, on the occasion of what would have been his 102nd birthday, February 22.
Monday, October 5, 1931 This morning I got a letter from Mother saying that the First National Bank of Kewanee has closed. That's the bank that has every cent I own. Mother also said that Grandpa Robb had all of his money there, and now Grandma is worried to death. Many of the people in Kewanee stood in front of the closed doors of the bank, weeping and cursing. One of Mother's women friends ran up and down our street, bewailing the fact that her family has lost everything. . . . Here I am at age 20–absolutely penniless.
University of Missouri, Sunday, January 3, 1932 Today I saw my first bread line–200 starving men forming a gray line as they waited for food. The sight of them disturbed me.
Saturday, January 9. 1932 Nace Strickland is the best room mate one could have. Today he told me something that happened when he was a child. Raised in St. Louis, he didn't know much about country life, so he was excited when two of his aunts took him for a drive on back roads. In one pasture he saw a bull mounting a cow, whereupon Nace exclaimed: "Hey, I didn't know those things could milk themselves."
Kewanee, Illinois, Saturday, June 11, 1932 Last night I dreamed I held my diary under a shower and was delighted when the words did not wash off. Does this mean I think my diary may make me "immortal?"
Monday, February 19, 1934 Some of my favorite songs: My Silent Love . . . Lullaby of the Leaves . . . I've Got the South in My Soul . . . Time on My Hands . . . Old Rockin' Chair . . . Piccalo Pete . . . Harmonica Harry . . . I Kiss Your Hand, Madame . . . Somebody Loves Me . . . I Surrender, Dear . . . Body and Soul . . . All of Me . . . You're My Everything . . . Mona Lisa . . . The Man I Love . . . What Wouldn't I Do That for Man . . . Mood Indigo. / / more . . .
http://philipsturner.com/wp-content/uploads/2016/11/GGB_Logo.png
0
0
Philip Turner
http://philipsturner.com/wp-content/uploads/2016/11/GGB_Logo.png
Philip Turner
2013-02-22 16:51:55
2013-03-05 21:55:09
Readings from "A Diary of the Century" by Edward Robb Ellis