In the past week I've blogged about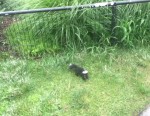 an urban skunk I encountered in Riverside Park;  a great new espionage novel called The Double Game by Dan Fesperman; the shameful lack of recognition for women in tech, as revealed by Change the Ratio's Rachel Sklar; a well-deserved honor for Jim Tully: American Writer, Hollywood Brawler, Irish Rover, my fave biography of 2011; the lack of public transportation for wage-earners which means they often can't get to jobs they would otherwise be able to fill; a new genetics study that may shed light on how the Americas were peopled in prehistoric times; a personal essay I'm contributing to a new book called Rust Belt Chic: The Cleveland Anthology; Mitt Romney's most secret offshore investment, Mitt and Ann's Jet-Ski vacation, and a NY Times Editorial that hit Mitt. I also put up a guest post by my son Ewan Turner, a blended short story that fuses an actual incident from Bob Dylan's career with an imagined episode involving the singer.
Over at The Great Gray Bridge tumblr, my site for quick hits and diverting photography, I put up a photo of Donald Trump that the Scots must find hilarious (h/t TPM and Zuma Press/Newscom and a post about the personal effects of lawman Eliot Ness, which have been put for auction.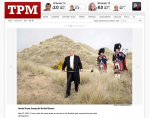 http://philipsturner.com/wp-content/uploads/2016/11/GGB_Logo.png
0
0
Philip Turner
http://philipsturner.com/wp-content/uploads/2016/11/GGB_Logo.png
Philip Turner
2012-07-13 22:24:47
2012-07-13 22:35:39
This Week at The Great Gray Bridge