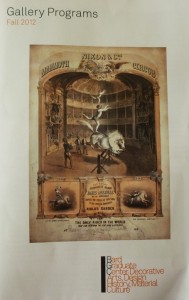 The Bard Graduate Center on West 86th Street is a gem of a small New York museum. On my birthday last Saturday, Kyle asked me what I wanted to do for fun. I suggested we go view Bard's current exhibit, "Circus and the City: New York, 1793-2010."
I've loved the circus for years, and have even collected artwork on it, like the print below of high-wire artists on a bike, by Dame Laura Knight. I bought it  in 1987 from my late art dealer friend Robert Henry Adams when I was editing and publishing the splendid circus novel, Suite for Calliope: A Novel of Music and the Circus, by Ellen Hunnicutt, who won the Dru Heinz Literature Prize that same year for her short fiction collection, In the Music Library. Ellen's novel centers around a young female protagonist who's a runaway from a bizarre custody battle in her family. Holed up in the safe harbor of the Florida winter quarters of a circus troupe, throughout the novel she's using their calliope to compose a musical work in memory of her late mother. The novel's theme is how we may turn our mourning and loss to the service of art and creativity. For the record, Ellen passed away in 2005. I hope some day to republish her novel.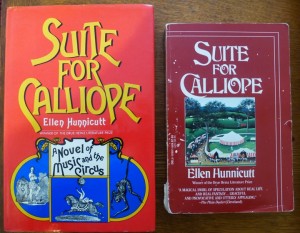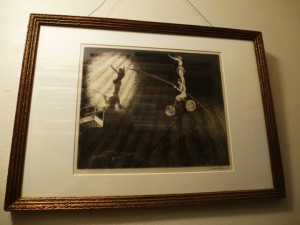 Much as I've read about circus lore, I had not understood a key aspect of the historical record as documented by the exhibit: the central role that NYC played in the growth and development of the circus throughout North America. Many of the biggest promoters were headquartered in Manhattan, the continent's entertainment capitol. Once the circus began moving from town to town via train cars, Gotham's status as a rail hub, as well as its large, diverse population, made it the essential city for promoters and performers alike.
The 20th century was covered on the third floor of the exhibit, with great photographs by Weegee, best known for his lurid crime scene photography, here depicting circus audiences enthralled by performances. There was also a video monitor showing a film of female stunt artist Tiny Kline performing the "Slide for Life," in which she clamped down on a kind of leather bit she'd placed in her mouth, then slid on a cable for a 1,000 feet hanging above Times Square.
Along with the exhibit, which comprises more than 200 works displayed on three floors of the museum, there will be nine public talks given beginning October 11 and stretching into 2013, ending on January 31, discussing female equestrians; performance photography; the design and typography of circus posters; P.T. Barnum and Ralph Waldo Emerson; Alexander Calder; clowning; and the circus of the future. I hope to be there for one or more of these presentations. Meantime, here is a gallery of images from the exhibit. Please click through to view art and images from the exhibit.
*Thanks to The Band, for use of the title of their song, "Life is a Carnival, written by Rick Danko, Levon Helm, and J.R.R. Robertson, from their 1971 album, "Cahoots."
http://philipsturner.com/wp-content/uploads/2016/11/GGB_Logo.png
0
0
Philip Turner
http://philipsturner.com/wp-content/uploads/2016/11/GGB_Logo.png
Philip Turner
2012-09-25 11:52:03
2013-02-09 19:57:17
"Life is a Carnival"*