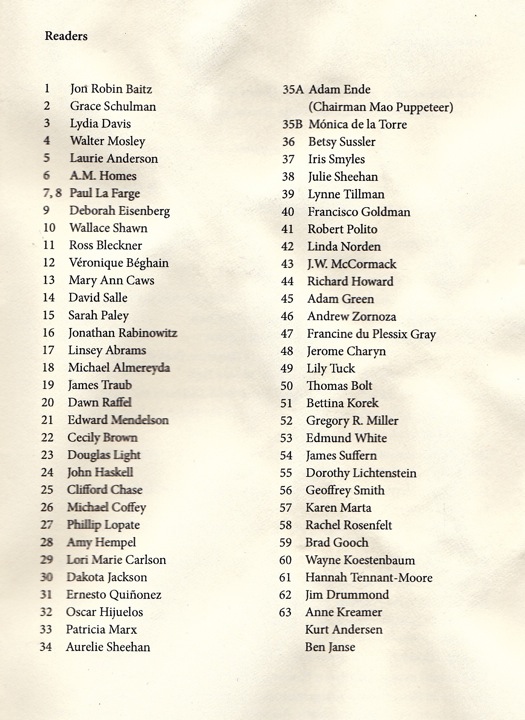 Ever imagined getting a whole slew of friends together to read a favorite book out loud? That's pretty much what happened this past Sunday in the handsome ballroom of the West Village's Jane Hotel when The New Inquiry, BOMB Magazine, ForYourArt, New Directions Publishing, and Google Places assembled more than 65 fans of The Adventures of Mao on the Long March to read their way, bit-by-bit, through Frederick Tuten's experimental historical-collage novel. Along with those who read, at least another 150 people listened through the mid-afternoon on into early evening. Think of it as a live audio book.
The event program informed participants that the book was "Published in 1971," adding it "is the first novel to use methods of appropriation. Tuten's avant-garde masterwork is a radical, original work made up of a linear narrative of Mao Tse-tung's Long March, interspersed with passages quoted from a variety of novels and essays used as dialogue and exposition." (And, I would add, imaginative and serendipitous juxtaposition.) "It freely mixes fact, fiction, citation, and parody to create a literary collage that is part fable, part newsreel, part pamphlet, part Emerson, part Lichenstein, part Godard. Over the past four decades, Mao has been a touchstone not only for the American literary avant-garde, but also for the visual arts in its references to Pop, Minimalism, Conceptualism, and Process Art."
The organizers so ardently admire the book that among themselves they had already read through it twice before this public occasion. With this intimate knowledge of the text–like an orchestral conductor who knows his score–they'd smartly carved it up into comprehensible chunks that each reader could readily present to the audience, with the narrative building to multiple climaxes. The event ran smoothly, with each reader assigned a number that was displayed on a flat-screen TV in the corner of the big room, waiting in the wings for their turn at the mic. There were no introductions of individual readers and few interruptions once preliminary remarks were offered by New Directions' publisher Barbara Epler, artist David Salle and Mr. Tuten, who glowed with pleasure and gratification throughout the day. The focus remained on the work, and Tuten's tragic sense of history fused with his antic sense of humor.
Readers stood in front of the ballroom's wide hearth, where a gas jet fire flickered over the 3 1/2 hours of the reading. This was one of those memorable occasions when one is reminded why those of us living in New York City are so fortunate to live here. The readers assembled were an awesome and talented group, as you can see from the full listing of them from the program. Below are photographs I made, presented as much as possible in the order that participants read. These are presented here as thumbnails, but please note that clicking on them will render the photos full size with ID info under the image.

http://philipsturner.com/wp-content/uploads/2016/11/GGB_Logo.png
0
0
Philip Turner
http://philipsturner.com/wp-content/uploads/2016/11/GGB_Logo.png
Philip Turner
2011-12-06 18:39:05
2011-12-10 18:57:21
A Marathon of Mao's Long March, a One-of-a-Kind Reading