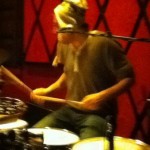 I learned from Grant Lawrence on his CBC Radio 3 show yesterday afternoon that the Montreal ensemble Karkwa would be playing Thursday night at the Rockwood Music Hall on the Lower East Side. I was already going to be out early in the evening at the Nation magazine's holiday party, so I decided to make the night a two-fer socially and entertainment-wise. I like hearing about things at the last minute, if I can swing taking 'em in!
Karkwa are a novel 5-piece outfit, with bass, guitar, keyboard–and uncommon for a band this size–two drummers. They are from the French contingent of Montreal's amazing music and cultural scene. Much as Arcade Fire, also hailing from Montreal, has had great success as anglophone performers, Karkwa is in its own way their francophone counterpart. While Arcade Fire won the Grammy for their album "The Suburbs" this past year, Karkwa surprised many in Canadian indie music in 2010 when the Polaris Music Prize was awarded to them for the album "Les Chemins de Verre," ("The Glass Paths"), the first time the Polaris was given to a band writing and singing their songs in French. As their website reveals, "the album had been recorded in part at La Frette studios in Paris–an inspirational venue dating from the 19th century, it became the sixth member of the band as they returned there time and again during their French tour. A lively collection based on spontaneous impulses of creativity, this album was put together without preproduction for a more organic and impressionist sound."
By the lack of "preproduction" I assume they mean over-dubbing was not employed in recording the parts heard on the record. "Live off the floor," as it's often put. And, indeed, hearing them live last night, they do deliver a lot of sculpted, layered sound to the listening ear in a high energy package. I'd heard them via their band page on Radio 3, but I was unprepared by how 'full' their sound really is. Out front on the Rockwood's Stage II–a low riser butting into the crowd, that leaves the musicians close to the audience–Karkwa were led by the guitar and vocal attack of Louis-Jean Cormier who played everything from a hollow-body Gibson to a Fender Telecaster. Bold chords and soaring melodies immediately grabbed me. On the keys, François Lafontaine was nearest to me, down left, while bassist Martin Lamontagne held the middle ground. Behind him were the shiny kits of the two drummers, Stephane Bergeron and Julien Sagot. The Rockwood crowd was enthusiastic, with folks from the start swaying and dancing in front of the rounded stage, including me. A few fans could be heard voicing lines in French. I've always enjoyed hearing music sung with lyrics in a language I don't know, whether French, Swedish, or Czech. Also from Quebec, I've long enjoyed the music of a remarkable singer Richard Desjardins, whose throaty vocals I first heard on the memorable album, Tum'aimes-Tu ("You Do You Love Me"). Hearing vocals in a foreign tongue tends to make all the sounds, instruments and vocals, seem more sensuous, like pure music, as one stops trying to decipher the words. Perhaps this is one of opera's many appeals for fans who don't know the language of the libretto.
While Karkwa was playing its fourth song, roughly twenty minutes into their set, an event occurred that I'd never witnessed at a show–over on the far side of the floor a member of the audience, a woman, collapsed. Within a few seconds, a number of people had gathered around her prone figure, trying to assess the reasons for her fall, and her condition. These Good Samaritans surrounded the woman with their backs facing the band; the musicians clearly sensed something was amiss, but not knowing why, over the next minute or two they played out the song. It was weird though because to us in the audience it was clear something serious was going on. Still, no one signaled the band to stop, including me, though doing something like that crossed my mind. When the song ended and comparative quiet prevailed, everyone on my side of the floor could hear people asking questions of the fallen one, though her responses, to me at least, were inaudible. While the band stood and watched, a steady house manager swung into action. I could hear him on a cell phone reporting to a 911 operator what he observed in the woman ("she's breathing, pupils dilated, skin is flush"). She was helped to a chair and we all began waiting for the arrival of EMTs. I struck up a conversation with keyboardist Lafontaine, and explained to him what I'd seen and surmised. In French he relayed something to his mates, and they left the stage. More minutes passed and next he told me he believed they were going to have to pack up their gear and be done for the night. With another band due to start playing at the top of the hour, their time was being consumed by this unfortunate incident. Soon after this the woman had gained enough awareness that she seemed to beckon toward the outdoors, seeking fresh air. A few people helped her out of the club and soon flashing red lights signaled the medics' arrival. Karkwa ceased unplugging and coiling up cable and remounted the stage to finish out their set. A great cry went up from audience members who until a minute before were quite crestfallen under the pall cast by the woman's collapse and the abrupt end of Karkwa's set.
The quintet finished up in fine form, and we all felt satisfaction that their set had come to a natural conclusion, rather than an aborted one. Karkwa put out a tremendous amount of energy and thrashing sound that's consistently grounded in pleasing melodic hooks. Singing in French, their sound is tough and aggressive, no effete or precious qualities to these francophones. I didn't have my proper camera last night, but I was glad I got some images with my I-Pod Touch, pasted in below. If these thumbnails are cropped too small, you may click on them for a full view.
http://philipsturner.com/wp-content/uploads/2016/11/GGB_Logo.png
0
0
Philip Turner
http://philipsturner.com/wp-content/uploads/2016/11/GGB_Logo.png
Philip Turner
2011-12-09 17:57:56
2011-12-10 17:35:21
Canadian rock 'n roll, sung in French