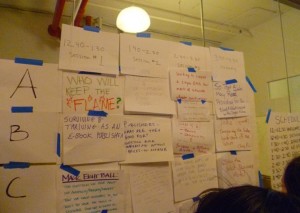 Book Camp on Sunday, February 12, was a spirited 'unconference,' a confab of experimentally-inclined publishing people enjoyed enormously by the 150 + plus in attendance, including me.
If you've never participated in an 'unconference'–and I never had until the first NY Book Camp in 2010–these gatherings are deliberately unplanned and unprogrammed up to the moment they begin. Book Camp is very much opposite to the two big digital publishing conferences held each year, Digital Book World and Tools of Change. As scripted and prepped as speakers are at those events, the presentations at Book Camp are informal, casual, and exploratory. Here, people aren't sure what they think about a publishing question until they've had a chance to say it aloud, or listened to a colleague talking about it.
Upon arrival last Sunday, I ran into Peter Meyers, whom I'd met at the first Book Camp. I trust his publishing instincts because in 2010 he was already touting The Atavist, then a new kind of ereading experience that I have since come to enjoy greatly. Peter's continuing to explore how to make the digital reading experience as rich as the print reading experience, on his New Kind of Book website. After about a half-hour of gabbing and excited networking the effervescent Book Camp leader Ami Greko called the assemblage to a minimal level of order. She directed the attention of participants to a wide blank swath of white paper taped to a wall nearby. Ami urged the 150-odd folks present to consider leading a session on a publishing topic or some aspect of reading culture that engages them, pointing to the blank sheet with its five timed grids for each 50-minute session stretching out over the next four hours, amounting to twenty sessions in all. Session leaders were not expected to deliver a lecture or voice a fully developed thesis; instead they're supposed to introduce and then lead a discussion on the topic at hand. Prospective session leaders began raising their hands, offering topics such as "Keeping the Flame Alive: Surviving and Thriving as an Ebook Publisher';"Working to Create a Single EPUB that Meets all Reflowable Ereader Specifications"; and "So That All May Read: Providing for the Blind & Handicapped in the Digital Future."
Standing with my longtime publishing friend David Wilk, proprietor of BookTrix, he told me that he wanted to lead a session on libraries and ebook lending, and put forward the idea of a public lending right. I told him of my interest in the prospects of publishers offering their print books along with options for customers to download the same title in ebook form–a process known as 'bundling' that I had recently explored in this blog post –we decided to join forces and co-lead a session, "Libraries and Ebook Lending." David raised his hand, voiced our pitch, and we wrote up a description, taping it to the third round of sessions coming up later in the afternoon, hopeful that other folks would be as concerned about this issue as the two of us.
Within a few minutes, the squares had all been filled in and book campers were rushing off to their opening sessions. I first sat in on discussion of "How Social is Reading," on the potential convergences of reading and social media. Interestingly, even while there was excitement about the prospects for readers to share their enthusiasms, there was also some consensus that people would only want to share, say, their favorite characters in Game of Thrones with a limited circle of friends, and not with all people who happen to be part of the same network and happen to be reading the same book. In "Keeping the Flame Alive" participants candidly shared what's not working for them business-wise, including ebooks that have drawn minimal interest and scant sales. We heard from Joshua Cohen about Ganxy, an exciting new capability that allows authors and publishers to sell ebooks from virtually any website or social media network. This is something I'm eager to share with author clients and publisher contacts of mine.
After my second session–"Publishers, What Are They Good For? Nonfiction Book Marketing Without Brick & Mortar," which addressed what publishers can do for authors in a time of declining shelf space in bookstores, and whether authors will continue to migrate to self-publishing–David Wilk and I huddled to lead our joint session. At first, it looked as if it might be a very small group indeed, just us and Katie Dunneback, a librarian who provides materials for the blind at the Library of Congress. However, before we could actually begin a gaggle of folks parked themselves in our circle of chairs, including Heather McCormack, editor of Book Reviews at Library Journal. We all discussed our disappointment with Penguin's recent announcement that they would be removing their thousands of titles from library lending through the distributor Overdrive, owing to a dispute over Amazon's so-called 'Lending Library.' Members of our session all shared frustration at seeing public library lending of ebooks from the Big Six publishers diminishing rather than expanding, even as access to bookstores nationwide has declined in the wake of Borders' closing and that loss of hundreds of stores. Heather pointed out that for many people around the country, the public library remains their most reliable access to discovering new books and reading them, and that publishers imperil their business and their authors if they cannot find a way to resolve these issues. I shared what I'd read about experiments in bundling from indie presses, such as Toronto's Coach House Books, who've announced that purchasers of their print books will be able to download ebook editions of the same title, at no extra charge. David Wilk explained how a public lending right–the provision of a royalty for authors when their books circulate in libraries–has worked for years in Britain and Canada, even before ebooks. David shared his idea that a similar innovation in the US could make up for the loss of income that authors may suffer when their titles are lent by libraries as ebooks, and thus relieve publishers of some of the worries they have now about being obliged to compensate authors for lost earnings. All participants agreed it was unfortunate that we had no representative from a Big Six publisher present to examine the issue, or discuss it from their perspective. We closed by agreeing that it is absolutely critical that publishers find a way to navigate these issues to the benefit of readers, lest the book industry forfeit access to a key population of readers for their authors and their books, print and digital.
The final session of the day was led by Chris Kubicka, with Ami Greko, one of the key organizers of Book Camp. Chris asked us to envision the bookstore of the year 2050 and what it might look like, what its inventory might contain, and how much of its sales would be in print, how much digital. One camper said it would include a performance space; another, that it would surely be selling alcoholic beverages; another that it might be a combination library (with lending) and bookstore (selling); another that as well as stocking print books, both new and second-hand, access to ebooks, and the capacity to print books via Print-on-Demand technology, it might also have holographic books, that is books that would somehow be projected as holograms. With many power strips on the floor in front of us for charging campers' portable devices, one wag wondered out loud if the bookstore of the future would have adequate energy and power supply to fuel all the electronic publishing being considered. We all agreed that if energy deficiencies became a severe problem, we could all just rely on print books once again, as we did before the current era began.
Once the last sessions wrapped up, Book Camp evolved into a fun cocktail hour, with red and white wine flowing and snacks to nibble. I chatted with Bob Kasher of NewGen in Toronto, and Robin Seaman, of the Benetech Initiative, which is making thousands of books in many languages available to the blind in braille and digital formats. I also enjoyed talking with Jeff Rutherford, whose tale of republishing Hard City, a great book by novelist Clark Howard, is an inspiration. The conversations from our sessions continued, many business cards were exchanged, and plans were hatched to meet up during the upcoming week at the Tools of Change conference. In addition to the conversations and sessions that had happened right in front of us, much of Book Camp also occurred on Twitter, with many campers tweeting throughout the day, and in the hours and days that have followed. In recognition of this, I am going to append to this blog post many of the Twitter handles I remember seeing on campers' name tags during the day, and with whom I've since shared tweets over the hashtag #book2. I'm also posting some photos I took during the day. I should add that many other book campers have posted online accounts of their camping experience and I recommend you read those as well, readily accessible through #book2.
Finally, notes from the first Book Camp can be read via this link.
@ami_with_an_i @petermeyers @charabbot @dwilk @HuisceBeatha @emilyw00 @mrmullin @chapmanchapman @jeffrutherford @GingerPatti @HoppingFun @ljndawson @ronhogan @glecharles @jimhanas @jason_kincade @annkingman @indiaamos @SGFreich @katzish @katmeyer @zenguin @mazdigital @seanconcanon @danblank @GalleyCat @chriskubicka
http://philipsturner.com/wp-content/uploads/2016/11/GGB_Logo.png
0
0
Philip Turner
http://philipsturner.com/wp-content/uploads/2016/11/GGB_Logo.png
Philip Turner
2012-02-19 13:30:46
2012-02-20 23:25:55
Book Camp--Fostering Innovation Since 2010