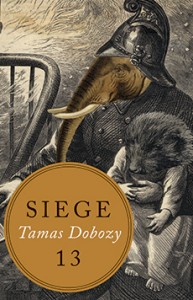 #FridayReads, Feb. 22–Siege 13: Stories by Tamas Dobozy, an innovative collection of short fiction that oscillates between the Nazi siege of Budapest in 1944 and the present day. I've just begun digging in to the book, but find I'm already astonished by the fluency of the writing, and the way the stories pull me right in. I don't have too much to say about it yet, so I'll note here the review of it that ran in Quill & Quire, the magazine of the Canadian book industry (Siege 13 was published simultaneously in the US and Canada). The reviewer is writer Robert Wiersema:
The stories are varied in tone: some emphasize the horrors of war, while others–like "The Society of Friends," about two men in love with the same woman – are darkly humorous. Gripping realism is comfortably juxtaposed with fantasy in stories like "The Ghosts of Budapest and Toronto." The pieces in Siege 13 are also unified by Dobozy's skill as a writer. Carefully crafted, but executed with seeming effortlessness, every sentence in this collection, every paragraph, is a thing of beauty, and the stories themselves are without flaws. That said, the combination of the author's abilities and the book's subject matter means Siege 13 should come with a warning: take it slow. These are stories that should not be rushed through.
I will definitely take my time. Meantime, if you'd like to know more about the writer, here's the web page for the book from its US publisher, Milkweed Editions. They sent me a review copy some months ago, I'm glad I'm finally getting to the book. The striking cover was designed by Michel Vrana, a friend who I met at the first Book Camp, an unconference about publishing.
http://philipsturner.com/wp-content/uploads/2016/11/GGB_Logo.png
0
0
Philip Turner
http://philipsturner.com/wp-content/uploads/2016/11/GGB_Logo.png
Philip Turner
2013-02-23 00:09:28
2013-03-05 23:03:25
#FridayReads, Feb. 22--"Siege 13," Stories by Tamas Dobozy