---
I had a meeting yesterday morning to present the excellent Web platform of my client Speakerfile, which I often tell people is like eHarmony for the conference industry, matching up event planners with authors who do public speaking. My meeting was with Gail Kump, Director of Membership Marketing for the Association of American Publishers (AAP). It was a fitting meeting, since it'd been Gail who'd referred Peter Evans, Speakerfile CEO, to me during the Digital Book World conference last winter. It is thanks to her that I'm working with them now. I've known Gail for a few years and we had a good talk, with each of us seeing ahead to many ways that the AAP and Speakerfile can work together. After sharing our ideas and swapping names of new contacts, I thanked Gail for her time and our meeting ended. Rather than immediately leaving the cool and pleasant AAP offices, I decided I'd sit on the comfortable couch in their lobby and do some work on my IPad and make a few phone calls before heading out to my next Manhattan meeting.
After a productive half-hour, I packed up my kit and prepared to leave. But first, peering back into the conference room where Gail and I had met, I noticed a familiar figure seated at a table. It looked like longtime book biz friend Carl Lennertz of World Book Night. Walking back that way, sure enough, it was him. Voicing a surprised "hello" greeting, I greeted Carl and we shared a few minutes of conversation. I learned that he and a colleague there with him, Laura, were assembling results of the enormous book giveaway they'd engineered this past April, when 23,000,000 copies of thirty different books were handed out gratis in North America, Ireland, and Britain. The non-profit program's motto is "Spreading the love of reading, person to person." The titles included Just Kids by Patti Smith, The Glass Castle by Jeanette Walls, and I Know Why the Caged Bird Sings by Maya Angelou. Carl and Laura showed me the Manhattan phone directory-sized bound volume that covers the myriad international locations where volunteers gave away books, with maps, charts, graphs, and narrative summaries of volunteer reports. Carl mentioned it will be made available as an ebook. I told them I'll be eager to learn more about World Book Night's plans for 2013.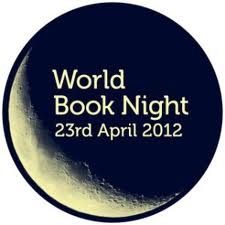 It made for a pleasant morning, seeing Gail and Carl, and meeting Laura. I hope to see them again soon!