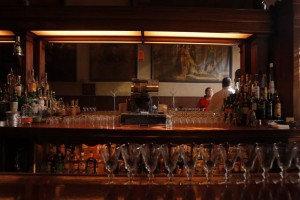 When I worked for Carroll & Graf Publishers from 2000-2007 I used to travel 2-3 times a year to the Bay Area for sales conference with our parent company Avalon Publishing Group. Though Avalon was based in Berkeley, I learned from my senior colleague Herman Graf that it was far more interesting to stay in San Francisco, and drive over the Bay Bridge to the East Bay in the morning for our meetings. Years earlier Herman–who I recently helped fete to mark his 51 years in publishing–had years before I joined the company staked out a motel that suited his needs perfectly, and mine too once I became semi-frequent on the Jet Blue flights from JFK to SFO.
This establishment was the Royal Pacific Motor Inn, and I see from the Web that it's still thriving. The Royal Pacific had everything we wanted–perfectly adequate and clean motel rooms; free guest parking, which Herman appreciated since he was the one of us who rented a car (never mind that driving with him was often a hilarious if not nerve-wracking adventure); and great restaurants and nightlife all around us in the Chinatown/North Beach neighborhood. The motels current reviews on yelp.com make clear that, depending on your personal preferences, it can be an ideal and reasonably priced place to stay when you're in the Bay Area.
The nearby streets offered innumerable Italian and Chinese restaurants (I still recall and savor the fresh whole Dungeness crab cooked Szechuan-style I ate one night at a Chinese place less than a 100 steps from the motel); coffee bars; City Lights Bookstore and Black Oak Books; and Tosca Cafe, an after-hours bar and hang-out that was a pleasant cave-like retreat from the busy sidewalks outside. Its soft lighting showed red booths, eye-catching murals on dark walls, and a long bar to stand at or park a stool in front of. Back in the day, Enrico Caruso frequented Tosca, so the excellent jukebox sported not only rock n' roll, but opera. Whatever the musical genre, it was never up too loud. There was also a back room with a pool table, where I once shot a game or two with astronomer and author Timothy Ferris. Over the years Tosca's clientele has been reported to include Sam Shepard, Gov. Jerry Brown, and Francis Ford Coppola, who with Tosca's owner Jeannette Etheredge, started an initiative for homeless denizens of North Beach, according to C.W. Nevius of the San Francisco Chronicle. Like such legendary watering holes as Greenwich Village's White Horse Tavern, remembered fondly in Pete Hamill's memoir, A Drinking Life, and Elaine's Restaurant on Manhattan's Upper East Side, Tosca always seemed like a place that didn't try to do too much for its customers, but what it did do, it did very well.
These recollections of the Royal Pacific, North Beach, and Tosca are prompted by a column by reporter Nevius in last Saturday's Chronicle. He reports that Toscas's landlord, a strip club owner named Roger Forbes, is seeking a substantial rent increase that Etheredge says she she simply cannot afford to pay. If the two are unable to reach a settlement, Tosca may be evicted. Etheredge laments the situation, telling Nevius, "Look at the place. It's out of an Edward Hopper painting." Like the late Elaine Kaufman of Elaine's, who was known to sometimes treat customers with disdain, Etheredge is also no shrinking violet. Nevius writes,
Etheredge has a long history in North Beach. Her family owned Bali's, a restaurant there, and she purchased Tosca in April 1980. However, it is probably too much to expect that she would polish a few of her rough edges. One of her endearing traits is that she treats famous actors just like everyone else–she yells at them, too."Everybody knows she's a pain in the ass," said [her attorney] Keker. "And everyone loves her."
Well, maybe not Roger Forbes. For his part, Nevius adds,
That's why, although Forbes may have all that strip club cash, I don't like his chances. It is possible that he could evict Tosca and put in another generic stripper revue in its place. He might even make a little more money. People are reportedly warning Forbes not to mess with Tosca. Putting in a strip club is one thing. Evicting an institution is another. You'll still get a nice sum in rent and you won't incur the wrath of the city's famously combative true believers. That's good advice.
Urban homogenization is increasing everywhere these days, whether banks and chain drugstores taking over the commercial blocks on the upper west side of Manhattan, or North Beach submitting to the siren song of tourist-friendly peep shows. As a New Yorker who's seen favorite businesses lose their lease or disappear overnight  (farewell Calcutta Cafe on Broadway at 104th St.), I hope Tosca can hang on. After reading about Tosca's troubles, I called Herman Graf to let him know and share some old North Beach memories. He reminded me that during sales conference week, other Avalon Publishing Group clients, such as Morgan Entrekin of Grove Atlantic, would end up at Tosca in the wee hours, one of the very best times to hang out  there. To get a sense of the bar's splendid interior and rich history, I urge you to view the rest of photographer Carlos Avila Gonzalez's excellent slideshow and read Nevius's entire column via this link.
http://philipsturner.com/wp-content/uploads/2016/11/GGB_Logo.png
0
0
Philip Turner
http://philipsturner.com/wp-content/uploads/2016/11/GGB_Logo.png
Philip Turner
2012-08-28 14:50:40
2012-08-29 09:41:47
Tosca, a San Francisco Retreat, Facing Eviction