[Editor's Note, Feb. 22, 2013: The post below is a revised version of a piece I published on Feb. 22, 2012, the last anniversary of Edward Robb Ellis's birthday.]
—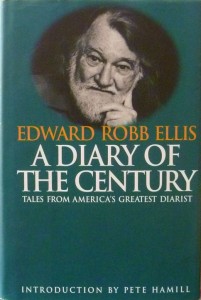 Book business friends who've known me for some years may recall that I've been extremely fortunate in working with remarkable authors of advanced age. There's the distinguished photojournalist Ruth Gruber, who turned 102 on her last birthday, with whom I've had the privilege of publishing six books over the past decade and a half, including Virginia Woolf: The Will to Create as a Woman–a republication of Ruth's 1931 seminal thesis on Woolf, the first feminist reading of the author, written before she'd become an international icon–and Exodus 1947: The Ship that Launched a Nation and Ahead of Time: My Early Years as a Foreign Correspondent. Ruth's still going strong, with a bio-documentary out on her, also called "Ahead of Time."
Another author I began working with who was then in their eighties was Edward Robb Ellis, who like Ruth Gruber, was born in 1911. In 1985, Ellis was recognized by the Guinness Book of World Records as the most prolific diarist in the history of American letters. By the time I met Eddie in the early 90s he had already published tremendously readable narrative histories, A Nation in Torment: The Great American Depression, 1929-39; Echoes of Distant Thunder: Life in the United States, 1914-1918; and one his adopted hometown, The Epic of New York City**. In 1995 I published his magnum opus, A Diary of the Century: Tales from American's Greatest Diarist, with an Introduction by Pete Hamill, based on the diary Eddie began keeping in 1927 at age sixteen, which he kept faithfully until the year of his death seventy-one years later. This is part of the flap copy I wrote for a 2008 reissue of the book:
Press credentials granted the eagle-eyed Ellis a front-row seat to many major events of the twentieth century, and he captures them with candor and verve, in a vivid pictorial style–whether covering politicians like Huey Long, move stars and performers such as Grace Kelly and Paul Robeson, or history-making news events, including the creation of of the United Nations. He recounts his encounter with the legendarily witty Mae West–whose press agent turns out to be feeding lines to her. He chronicles a new Orleans jazz joint where he interviews a talented young trumpeter named Louis Armstrong. He writes of taking long strolls with Harry Truman, and of observing Senator Joseph McCarthy for the first time ("His mouth is thin and long, like a knife-gash in a melon.").
Born in Kewanee, Illinois ("Hog Capitol of the World"), Ellis moved to New York City in 1947, and lovingly documents the city's cosmopolitanism and post-war ebullience. The sparkle in Ellis's writing comes not solely from his meetings with the rich and famous, but from his attentiveness to, and enjoyment of, everyday life. In Ellis's own words, this is "not a record of world deeds, mighty achievements, conquests" but "the drama of the unfolding life of one individual, day after day after day."
When I published the book with Eddie on Labor Day in 1995, we scored a rare kind of hat trick, booking interviews on all three network morning shows. Matt Lauer interviewed him on the TODAY Show, Cokie Roberts on "Good Morning America," and Harry Smith on CBS's "Early Show." It was clear that Eddie's status as a reporter from journalism's golden age–or at least what morning show hosts and producers believed had been a golden age–had endeared him to them. I have videos of those appearances, but unfortunately haven't transferred them to the Web and they are not on youtube. Picture Eddie wearing a red neckerchief with a khaki safari jacket and looking very dashing on TV.
In the 2008 reissue of A Diary of the Century I included an Editor's Note explaining that at even 200,000 words and more than 600 pages, the book had constituted less than 1% of the entire Ellis Diary. A reference book aficionado, Eddie was fond of saying that his whole diary clocked in at more than 20,000,000 words, or roughly half the length of the Encyclopedia Brittanica. My Note explained that in his later years Eddie arranged for the Ellis Diary to find
"a permanent home with the Fales Library of New York University. Indeed, even before the last day of his life–which arrived on Labor Day 1998, so fitting for a man who always called himself a 'working stiff'–more than five dozen oversize bound volumes, were hauled from his Chelsea apartment to the Greenwich Village campus of NYU. . . . It was my privilege to read into those bound volumes of the Ellis Diary, and I promise the reader that I found no dross there. With this revival, on behalf of Eddie's literary executor Peter Skinner and literary representative Rita Rosenkranz, I take this opportunity to state that it is our intention to revive interest in A Diary of the Century, and then go on to create new books drawn from the Ellis Diary."
With the possibilities afforded by the Internet clearer than ever, the above goal remains high among my personal priorities. Though Eddie was suspicious of new technology, and the World Wide Web was still new when he died, A Diary of the Century, with every entry  bearing the date he wrote it, will lend itself beautifully to blogging someday; in fact, it'd be fair to say that Eddie was a kind of proto-blogger before the term was known. In addition to this recollection of Eddie, I have posted a selection of readings from his diary, and here's a link to a recent story I wrote about Eddie's work with Letts of London, the diary publisher who've been selling blank journals since 1796.
** After publishing A Diary of the Century in 1995 I also republished the three backlist books by Ellis named above. The Epic of New York City has had more than ten printings since then.
http://philipsturner.com/wp-content/uploads/2016/11/GGB_Logo.png
0
0
Philip Turner
http://philipsturner.com/wp-content/uploads/2016/11/GGB_Logo.png
Philip Turner
2013-02-22 16:52:30
2013-03-05 23:22:35
Remembering Edward Robb Ellis, Feb. 22, 1911-Labor Day, 1998