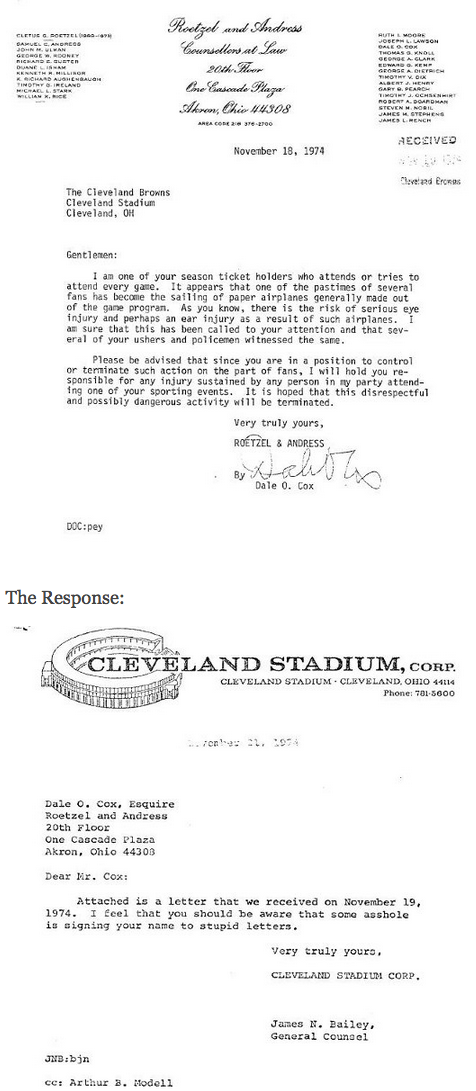 If it's Sunday, it must be football, right? In keeping with the day, Shaun Usher, the British proprietor of the always-splendid website Letters of Note has reposted on his site's Facebook page a funny exchange of correspondence that I chuckled over when he first shared it last February. It gave me another good laugh today. Shaun's placed the 1974 letters under the heading Regarding Your Stupid Complaint. They were between Dale O. Cox, Esquire, a persnickety Cleveland Browns season ticket holder, and the Browns' team office.
As readers of this blog may recall, from pieces such as How to Enjoy Sports Even When Your Teams Have a History of Failure, and a Personal History essay, I grew up following the ups and (often the) downs of Cleveland sports teams. With my late father and brother, I had the great good fortune to attend the last professional sports championship of a Cleveland team–when in the 1964 NFL title game the Browns upset the Baltimore Colts, 27-0. As the scanned copy of a grade school composition of mine will attest, the season ticket holders we sat near in the upper deck in Section 42 were a colorful bunch, like "Bert, a lover of wine" who "often fixe[d] himself a Diet-Rite and wine cocktail," and Eddie, who "As soon as the first half ends, breaks out [a] thermos of chili . . . he shares with John, while John splits one of his many bottles of wine with him." (See bottom of post for the whole piece.)
In the summer of 1977, after I was graduated from Franconia College, I worked as a beer vendor at Cleveland Indians' baseball games. I enjoyed walking the wide open grandstands of cavernous Municipal Stadium, calling out such pitches as "Beer Here!" and "Get Your Cold Ones!". My happy run as a vendor ended though when I worked a Cleveland Browns pre-season game, and was appalled to discover that the placid beer-drinking Indians fans I'd come to enjoy serving had morphed into, as I wrote in that personal history essay, "an unruly, inebriated mass. . . I was lucky I didn't have my rack of beers stolen along with all my earnings."
With these recollection of public drinking and intoxication at Municipal Stadium, you can see why I derive such a good laugh from the correspondence between Mr. Cox and the Browns (headings and signatures abridged):
November 18, 1974
The Cleveland Browns
Cleveland Stadium
Cleveland, OH
Gentlemen:
I am one of your season ticket holders who attends or tries to attend every game. It appears that one of the pastimes of several fans has become the sailing of paper airplanes generally made out of the game program. As you know, there is the risk of serious eye injury and perhaps an ear injury as a result of such airplanes. I am sure that this has been called to your attention and that several of your ushers and policemen witnessed the same.
Please be advised that since you are in a position to control or terminate such action on the part of fans, I will hold you responsible for any injury sustained by any person in my party attending one of your sporting events. It is hoped that this disrespectful and possibly dangerous activity will be terminated.
Very truly yours,
Dale O. Cox
The Browns' reply, from their General Counsel and cc:d to team owner Art Modell, was written only three days later:
Dear Mr. Cox:
Attached is a letter that we received on November 19, 1974. I feel that you should be aware that some asshole is signing your name to stupid letters. 
Very truly yours, 
CLEVELAND STADIUM CORP. 
James N. Bailey,
General Counsel
cc: Arthur B. Modell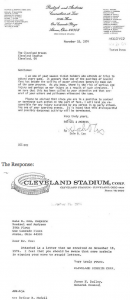 —
In the years following the exchange with Mr. Cox, Art Modell–who died this past September at age 87–would later be tagged with infamy among many Cleveland sports fans for relocating the Browns to Baltimore in 1996. Yet it's plain to me that at least in 1974 he was still a stand-up guy, or he wouldn't have condoned his team attorney sending such a funny, profane letter to a customer who was himself a lawyer, and one who included in his letter an implied threat of litigation–"I will hold you responsible for any injury sustained by any person in my party attending one of your sporting events." Would any caution-ridden lawyer today dare to send such a letter in response? If you have thoughts on this and would like to continue the conversation, please let me know what you think in the comments field below. A final point on Mr. Usher's Letters of Note presentation for this exchange. He uses a photo in it of a Cleveland stadium, but it is the new Browns stadium, built and opened in 1999, on the site of the old Municipal Stadium, where I attended games as a boy and worked in 1977.
A grade school essay of mine on the fans I sat near at Cleveland Browns' games.
http://philipsturner.com/wp-content/uploads/2012/11/Cleveland-Browns-letters.png
1091
476
Philip Turner
http://philipsturner.com/wp-content/uploads/2016/11/GGB_Logo.png
Philip Turner
2012-11-18 12:44:13
2014-11-18 13:20:38
Would a Lawyer Today Dare Send Such a Funny & Profane Letter?