Thursday Update: Here's a pic of Speakerfile CEO Peter Evans at the Digital Book World podium yesterday, just after the panel he was part of discussing innovation. Photo by Mercy Pilkington. Today I'll be on the floor with Peter talking with publishers and agents about how Speakerfile can help their authors be discovered by more readers.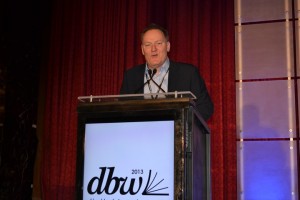 Wednesday Update: Speakerfile has sent out this press release on the wires about CEO Peter Evans' appearance on a DBW panel later today about innovation:
—-
It's not even the middle yet of what's bidding to be a great week.
Today, Tuesday, I team-taught in a nonfiction book writing seminar at the CUNY Graduate School of Journalism.
Wednesday and Thursday I'll be attending Digital Book World (DBW), third year in a row I've gone to this conference that showcases the evolution of the book world in the sometimes lurching transition into digital reading. What's more, tomorrow Peter Evans–CEO of Speakerfile, a Toronto company I represent to the publishing industry–will be part of a DBW panel devoted to innovation in publishing. Speakerfile, which has a click-through promo near the upper right corner of this website, is a software platform and website that  connects conference organizers, meeting planners, and members of the media to author experts and thought leaders who do public speaking.

I began working with Speakerfile in 2012, and one of the first clients I brought them was Movable Type Management (MTM), a literary management firm. Last summer MTM put two dozen of their author clients in to a mini-speakers bureau that resides on Speakerfile's website, with the same bureau also appearing on MTM's site. MTM president Jason Ashlock has just recorded a brief testimonial video about Speakerfile in which he says, "Within the first week we had a couple of bookings . . . we've now booked over a dozen events for our clients, each of which has paid our clients well and promoted them across the audiences that we're really hoping that we'll reach."
With publishing clients I've introduced to Speakerfile finding many new speaking engagements for their authors, I am convinced that this smart Canadian company can become a dynamic engine of discoverability for publishers, bringing authors and their books together with motivated audiences. I'm very pleased that Peter Evans will have the opportunity to share Speakerfile's story with the questers for innovation at Digital Book World.
http://philipsturner.com/wp-content/uploads/2016/11/GGB_Logo.png
0
0
Philip Turner
http://philipsturner.com/wp-content/uploads/2016/11/GGB_Logo.png
Philip Turner
2013-01-15 22:40:27
2013-01-21 19:49:29
Speakerfile, on Stage at Digital Book World