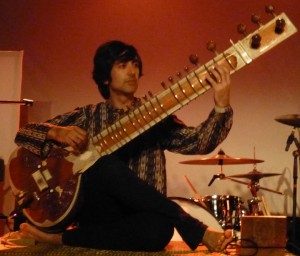 I had fun Wednesday night at a live rock show with three self-described psychedelic bands, one of whose music, Montreal's Elephant Stone, I already knew well and whom I had written about last year. The other two groups–Allah-las from Los Angeles, and The Black Angels from Austin–also on the bill, were new to me. I was probably the only fan in the house who was more familiar with Elephant Stone than the others. Still, I was glad to see many in the crowd had arrived early enough to hear the opening act. Beforehand, I chatted with a couple who didn't know anything about Elephant Stone, and said to them that they sound like "the Byrds with an Indian influence." For his part, frontman Rishi Dhir has playfully dubbed their sound 'Hindi rock.' The quartet's mind-blowing sound collage is driven by bright and jangly twelve-string guitar, sitar, and thumping bass, the latter two instruments played by Dhir (pictured at the left). They've recently released a new self-titled album (shown at right), released by Hidden Pony Records, a label that also features the great band, Rah Rah, another favorite act of mine.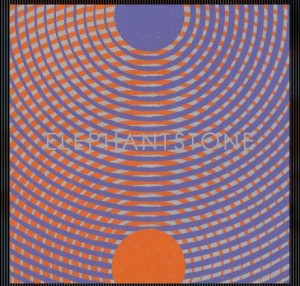 I'm pasting in a video below of Elephant Stone playing the Osheaga festival live in 2011. Some of their personnel have changed since then, but this video is still a good indication of what they're like to hear live. The sitar kicks in at around 4:30 of the seven-minute clip.
I enjoyed hearing Allah-Las and The Black Angels for the first time, but the real highlight of the night for me was listening to Elephant Stone once again. Dhir bantered from the stage about how pleased he was that local radio station WFMU is playing songs from their new album, so I'm hopeful that over the past week–when Elephant Stone played a total of three live dates at NYC venues–they will have gained a much larger audience for their dynamic sound.
http://philipsturner.com/wp-content/uploads/2016/11/GGB_Logo.png
0
0
Philip Turner
http://philipsturner.com/wp-content/uploads/2016/11/GGB_Logo.png
Philip Turner
2013-04-11 21:46:00
2013-04-11 21:48:05
Psychedelic Bands Blowing Minds & Rockin' Out at Brooklyn's Bell House