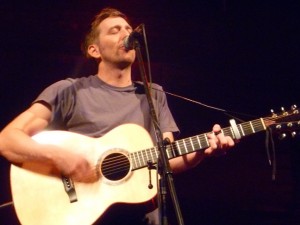 I love one-man bands, those musical artists who can stomp, holler, and play licks while animating a whole set entirely on their own. Soloists like this captivate an audience with talent, musicianship, and personality. Last Thursday night's show at the Bowery Ballroom offered ample pleasures like these, with the fresh and funny Shotgun Jimmie opening for master singer-songwriter John K. Samson in a show for the ages. Jimmie was charming, talented, playing kick drum with his foot, ripping on his Fender electric, and singing his quirky songs of striving and nerdy romanticism, maintaining despite all disappointments a cockeyed optimism. Even the title of Jimmie's latest album suggests wit and wordplay: "Transistor Sister." Here are some lines from the opening track "Late Last Year."
Oh my darlin' the legs under this table/are independently bumpin' in to mine/They're on a mission dispatched to disable/My defenses and they're working just, fine
Like the Canadian rockers Library Voices, John K. Samson's lyrics exude a literary quality, filled as they are with learned allusions to explorers, the classical world, and existential reality. He's co-founder of a publishing collective in Winnipeg called Arbeiter Ring Publishing, a sort of Workmen's Circle for books, which recently brought his Lyrics & Poems 1997-2012. As a book professional myself, I am intrigued with this rocker who also has a big footprint in the book and publishing camp. I see that Vancouver writer Steven Galloway, whose novel Ascension I published in 2002, has articulated what's special about Samson's work:  "John K. Samson is one of Canada's finest living writers. He creates a world with a phrase, devastates with a word and restores hope with an image. Many novels do not contain as much humanity and emotional resonance as one of Samson's lines. As a writer I am torn between admiration and jealousy; as a reader I am enthralled."
Samson had played the same venue last December with his band The Weakerthans in a unique residency that saw them sell out the Ballroom four consecutive nights, playing each of their four albums in succession. Much as I loved the show then, when Rah Rah was the opening act, last week's performance offered a more intimate connection with the artist for the couple hundred fans who had come to hear him, including for me. Even with a few side players on most songs, including Shotgun Jimmie who came back after a break to accompany his more senior partner, I had the sense of Samson bonding deeply with his audience over the melodies, words, and themes of these heartfelt songs. It was like listening to the Weakerthans, unplugged. He was serene and by the end just soaking up love from the crowd, as we felt it coming back from him. He played three encores including "These Are My Favourite Chords" and "Virtute the Cat Explains Her Departure," for which he stepped out from behind the mic stand, playing to us as if this were a house concert and we were all his close friends, which by then we were. I felt full and happy when the lights came up following the finale, in which the unlikely feline narrator Virtute expresses its animal longing for affection, touch, and closeness.
When the winter took the tips of my ears
Found this noisy home full of pigeons and places to hide
And when the voices die
I emerged to watched abandoned machines
Waiting for their men to return
I remember the way I would wait for you
To arrive with kibble and a box full of beer
How I'd scratch the empties desperate to hear
You make the sound that you found for me.
After scrapping with the ferals and the tabby
Let you brush my matted fur
How I'd knead into your chest while you were sleeping
Shallow breathing made me purr.
Apparently, the warmth that I felt after the show had been prevalent throughout the Ballroom, because as I was starting to make a final trip to the merch table and then call it a night, a young couple came up to me, Brittany and Kevin, a pretty brunette and her winsome Australian boyfriend. They wanted to tell me that from Shotgun Jimmie's opening act through the last notes of John K. Samson's set they had noticed me appreciating the music and grooving to it and they just wanted to tell me they were grateful to me for this. I was pretty exhausted from the long night of standing and swaying and moving to the music, and a bit stunned by what they said, but quickly gathered my bearings and thanked them for approaching me, glad that my enjoyment had provided even more enjoyment for them. Kevin asked if I wanted a drink which sounded great, so we sat down and chatted for a few minutes. I shared some musical reminiscences, they told me about their hopes and dreams, and when we'd sipped our last, I took their picture for a sweet coda to a memorable evening.
Update: For the setlist to John K. Samson's set please see this write-up at Brooklyn Vegan, with terrific photos by Tamara Porras.
http://philipsturner.com/wp-content/uploads/2016/11/GGB_Logo.png
0
0
Philip Turner
http://philipsturner.com/wp-content/uploads/2016/11/GGB_Logo.png
Philip Turner
2012-03-20 12:22:56
2012-03-21 08:45:03
Bonding with Shotgun Jimmie & John K. Samson at the Bowery Ballroom