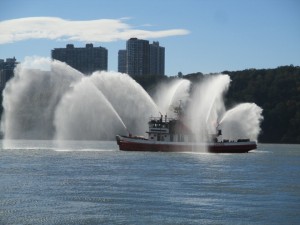 Hundreds of New Yorkers found their way to Fort Washington Park yesterday, underneath the George Washington Bridge, aka the Great Gray Bridge, for the 21st Little Red Lighthouse Fall Festival, co-sponsored by the NYC Parks Dept and the New York Restoration Project (NYRP). The latter is Bette Midler's organization, aka MillionTrees.org. I had no idea the festival's been going on every year since 1992! I biked up there and had a fun couple of hours, marveling at the big crowd, including many families with young children, all enjoying a great NYC landmark, one that I've cherished a long time, though usually alongside only just a few other visitors to the site, not dozens.
As is the custom on the second Saturday of each month from May-October, the little red lighthouse was also opened to visitors yesterday, and long lines of people waited a turn to get inside and see for themselves this treasure of naval architecture and maritime history. I had toured the lighthouse and taken many photographs in August and September, and so happily left it to other visitors yesterday. Booths at the festival included such exhibits as Urban Park Rangers (a career I'm sure I would enjoy); NYRP and their Million Trees initiative; and such local businesses in Washington Heights, the neighborhood adjoining Fort Washington Park, as Word Up Bookstore and Storefront Science. Festival organizers had also printed poster-sized reproductions of Lynd Ward's art from Hildegarde H. Swift's classic children's book The Little Red Lighthouse and the Great Gray Bridge, and from a stage that earlier sported a quite good cajun & roots band called The Amigos, the book was read aloud with help from teenagers from BuildOn.org and an NYC Parks Dept official. I was amused when the official announced the youth group as Move On, which sounded odd–it seemed a bit far afield for MoveOn.org–and the kids quickly corrected her, saying, "We're from Build On!"
For a finale, an FDNY fireboat cruised up the Hudson, drifted close to the shoreline and then turned about so spectators could see the vessel from every angle. And then the crew provided a great water exhibition, shooting great arcs of water from the boat's hoses and spouts, creating transparent scrims of water shimmering against the blue sky and bright sunshine. It was a splendid sight and an enjoyable festival. Below are my photographs from the delightful day.
http://philipsturner.com/wp-content/uploads/2016/11/GGB_Logo.png
0
0
Philip Turner
http://philipsturner.com/wp-content/uploads/2016/11/GGB_Logo.png
Philip Turner
2013-10-13 13:27:59
2013-10-14 13:59:02
Enjoying the Little Red Lighthouse Fall Festival