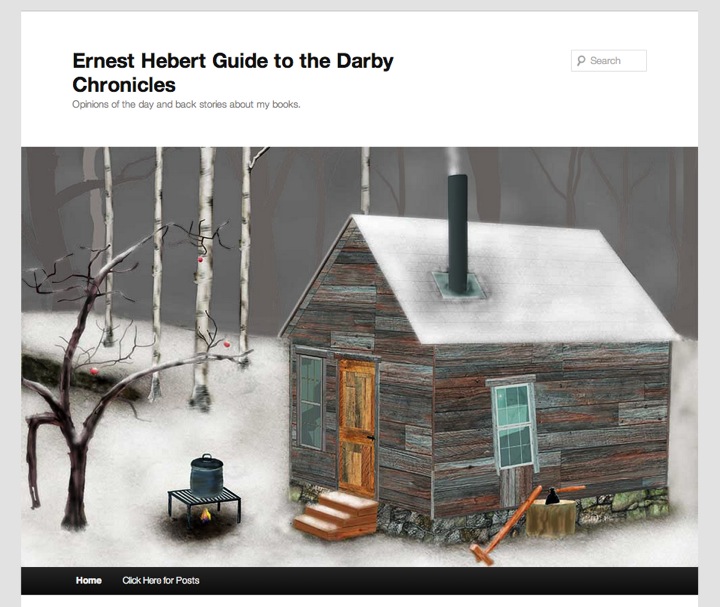 Last summer I wrote a #FridayReads essay that recalled a 1979 visit to my bookstore Undercover Books by a young novelist named Stephen King–then only in the early years of what would become his decades-long career as a bestselling novelist. While discussing his new book Dead Zone he excitedly recommended to me a novel from his publisher, The Dogs of March by Ernest Hebert. I eagerly told King that I had already read Hebert's book and that I would from then on tell my customers about his endorsement of it, and recommend it even more energetically. Soon after King's visit to my bookstore, I wrote a letter to Hebert c/o his editor, the late and much-missed Alan Williams at the Viking Press (who was also King's editor then). I let Hebert know that I'd enjoyed The Dogs of March, and that he and his novel had boosters in Stephen King and at my bookstore. After, that Ernie, as I came to know him, and I carried on a correspondence that continued for several years. I also visited him and his family on trips I made from Cleveland back to New Hampshire, where I had attended Franconia College earlier in the '70s. One of the things that Ernie did with great skill in The Dogs of March was to juxtapose longtime residents in New England towns with incomers, or as he puts it, "natives vs. newcomers." He wrote compelling fiction about all kinds of characters, and did it with a sharp edge of social observation.
While Ernie and I later fell out of touch, I kept an eye out for his work, noting that he had moved on from working as a newspaper reporter when I first met him, to teaching writing at Dartmouth College, all while he continued to write and publish novels. In fact, The Dogs of March was followed by a string of related books, collectively known as the Darby Chronicles, named after the town where he had set them, as well as a historical novel and a piece of speculative fiction. After I wrote about Stephen King and The Dogs of March last July, Ernie and I got back in touch, a happy reunion. He writes a superb blog of his own filled with writerly craft, which I subscribe to and visit regularly. This week Ernie published a new post informing readers that in Fall 2014 the University Press of New England will publish Howard Elman's Farewell, the seventh book in the Darby series.* I recommend that new post, where he also writes about a guide to the Darby Chronicles he'll be publishing online. His blog is filled with keen reflections showing how a career novelist thinks about his books–before they're written, while they're being composed, and once they are completed and out in the world. I also recommend his books of course, and suggest if you're just starting on them you begin with The Dogs of March. Here's a picture gallery of all my editions of Ernest Hebert's books, with author photos, many of them taken by his wife Medora Hebert:
* The seven books in the Darby Chronicles are The Dogs of March; A Little More Than Kin; Whisper My Name; The Passion of Estelle Jordan; Live Free or Die; Spoonwood; and (forthcoming) Howard Elman's Farewell.
http://philipsturner.com/wp-content/uploads/2016/11/GGB_Logo.png
0
0
Philip Turner
http://philipsturner.com/wp-content/uploads/2016/11/GGB_Logo.png
Philip Turner
2013-10-23 12:34:39
2013-10-23 13:11:07
Ernest Hebert, for Many Years Among my Favorite Novelists