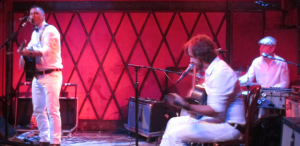 The Ontario trio Elliott BROOD played a great set of new songs for a 7pm set at Rockwood Music Hall on Manhattan's lower east side last night. The early hour meant light was still pouring in the windows off Allen Street as they hit their first downbeat, but the vibe quickly turned funky for the crowd of about twenty-five, for as I wrote about this band after I first heard their live show in 2012:
"The trio's gritty sound feels as if it's been imported from the early days of sound recording. More raw than roots, it's a sonic stew of acoustic guitar, banjo, reverb-ed Fender Stratocaster, harmonica, and thumping drums."
Rockwood has excellent acoustics, whether the room is crammed or not. Last night, the mix was great and all instruments could be heard well. They played six new songs from their forthcoming album, "Work & Love" (Paperbag Records), and a couple older ones. They announced it was the first time they were playing the new songs for a live audience. Dressed all in white, Casey Laforet (electric and acoustic guitars, and an array of foot pedals he played in sock-clad feet); Mark Sasso (acoustic guitar, harmonica, banjo); and Steve Pitkin (drums and a keyboard set up next to his kit) charmed all with light banter and interesting song reveals. Casey, a still-new parent, introduced one new song, "Each Other's Kids," by explaining they wrote it after realizing how much people in their world universally rely on one another to take care of their young children.
I had met them in 2012, so it was good to re-visit afterward, and introduce all three to my wife Kyle Gallup, and our friend, Mike Fitzgerald. I caught up on all the news with Casey, and learned he and his wife are about to have their second child. Steve appreciated I remembered his last name correctly, something I can relate to, since people tend to spell my first name with two lls, though it only has one. I told Mark he had been in good voice, though he said he actually felt like he might be getting a cold. I gave them the card for my blog Honourary Canadian, which I began after I met them the first time. They began packing up for a show tonight at the Black Cat in D.C., then they're moving on to Bristol, Tennessee—said to be "the birthplace of country music in the USA"—where they'll be playing the Rhythm and Roots Reunion Festival.
Last night's only flaw was that the new album isn't out yet–after hearing the new songs for the 1st time, I'm keen to hear them again. But it will be available Oct 21, and though it would've been nice to get a copy right from the hands of band member, I'll also be glad to purchase it from the great Canadian indie music website, zunior.com, a seller I highly recommend.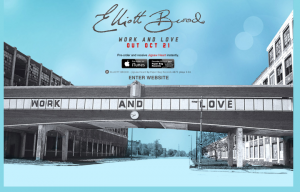 http://philipsturner.com/wp-content/uploads/2016/11/GGB_Logo.png
0
0
Philip Turner
http://philipsturner.com/wp-content/uploads/2016/11/GGB_Logo.png
Philip Turner
2014-09-18 19:35:25
2014-09-18 19:54:11
Elliott BROOD Made Feet Stomp on the Lower East Side