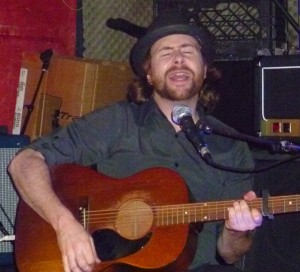 Last Wednesday night I had the privilege of hearing two great Canadian bands on Manhattan's Lower East Side, enjoying their back-to-back sets enormously. First up was The Pack A.D., a female duo from Vancouver who play hard-charging drums + guitar raw punk style. Guitarist Becky Black is angular and lanky, kind of a girl version of The Sadies' Dallas Good, while lead singer Maya Miller drums fiercely and handles show banter with alacrity. With signature songs like "Sirens," "All Damn Day Long," "Making Gestures," and "Haunt You" (with a great arcing chorus vocalized against a pounding drum beat, Black sings, "I died/I died/I died/I'll haunt you," stretching out the "I'll" till it's more wail than words. Their wall of sound made a helluva sonic impression on me and since then I've been loving their recent album, "Unpersons," which I bought at the merch table. I was joined there picking out a CD by my CBC Radio 3 show buddy Steve Conte, a comics artist and comics dealer from New Jersey.
Next up in Pianos' tight little music room on Ludlow Street were the Ontario trio called Elliott Brood, whose gritty sound feels as if it's been imported from the early days of sound recording. More raw than roots, it's a sonic stew of acoustic guitar, banjo, reverb-ed Fender Stratocaster, harmonica, and thumping drums. Mark Sasso, standing stage right, handles the acoustic, banjo, and mouth harp, while the electric's in the hands of Casey Laforet, seated at the other side, and in the middle is drummer Steve Pitkin, who also has a small keyboard to the side of his drum kit. Mark and Casey traded off singing lead, also swapping high and throaty harmonies on many tunes. Mark and Casey are bearded, hatted, and vested, reminiscent in appearance of Band members from their prime, Rick Danko and Levon Helm. Their set list was composed of songs from across all the Elliott Brood  albums, including the latest, "Days into Years." The analogy to The Band isn't purely visual, as like those original greats from the North Country, Elliott Brood seems to have composed their songs by channeling roots from the last century, or maybe the century before that. For the current album, they borrow the motif for its ten songs from the conceit that a young man in our era has found letters of a WWI doughboy who'd written home about the terrors of the trenches. The signature song for this strand on the record is "If I Get Old," a verse of which has these lines:
And when we got here we were young men/What we've done has made us old/Left to die out in these frozen fields/So far away from home/And if I live to see the end I'm going to make a brand new start/But I'll never be the same again without my youthful heart.
From what I had heard about the Brood's shows, I expected a boisterous set and they delivered this in spades. For the rousing "Oh, Alberta," drummer Steve passed out pie tins and wooden spoons so some among the 50-60 of us in the room could accompany this anthem with some noise of our own. On the Radio 3 blog, where the Canadian indie music-listening community congregates online most days, I'd made friends with Casey Laforet's mom, who goes by the blog handle Babs46. A few weeks earlier she had alerted me to this night's gig, and had evidently let Casey know I might be there. When I introduced myself to him after their last encore, he seemed not at all surprised to be shaking hands with this book editor, New Yorker, and Canadian indie music fan. It was a treat meeting him and his bandmates, Mark and Steve.
If this report on Elliott Brood's performance last week has intrigued you, I urge you to set aside about 15 minutes to listen to this recent video recorded with them playing, of all places, in a barber shop. Until you have the time to watch the video, here are photos I took at the show last week, like the one of Casey Laforet at the top of this page.
http://philipsturner.com/wp-content/uploads/2016/11/GGB_Logo.png
0
0
Philip Turner
http://philipsturner.com/wp-content/uploads/2016/11/GGB_Logo.png
Philip Turner
2012-03-19 22:05:23
2012-03-20 09:17:59
Stomping Feet in NYC with The Pack A.D. & Elliott Brood