Amid an incredibly busy week–teaching a nonfiction book writing seminar on Tuesday at the CUNY Graduate School of Journalism, and attending Digital Book World (DBW) Wednesday and Thursday, it was fun to still get out and hear some live music, when Luke Doucet and Melissa McClelland, aka Whitehorse, played at Hill Country, the fun BBQ restaurant and saloon in Manhattan on Thursday night. What made it even better was that I was able to bring some friends from DBW with me. Joining me were Peter Evans, CEO of Speakerfile, the Toronto company that connects conference organizers to author experts that do public speaking, whom I represent to the publishing industry; and Chris Howard and Jason Freeman of Libboo, an exciting new engine for book advocacy and discovery. We enjoyed an amazing dinner first and had a kinetic conversation that encompassed vintage guitars, music performance, emerging technologies, and whether Pabst Blue Ribbon (PBR) is the best beer to have with smoked wings. Before we knew it, Whitehorse was taking to the stage.
I had heard and met Luke and Melissa last year, so it was great to see them again, and this time turn some friends on to their music. Though they are 'only' a duo, they play like twinned one-person bands, supplying percussion, bass, keys, guitars, vocals, and foot-stomping to the sonic mix. Melissa's voice is a powerful, arcing instrument, and Luke's guitar work, mostly on a big, white Gretch Falcon, is consistently mind-blowing. Their ensemble work was especially powerful on such songs as "Wisconsin," "Passenger 24," "Devil's Got a Gun," and "I'm on Fire."
I love it when spontaneous fun can be enjoyed amid a busy trade show. Thanks to Peter, Chris, and Jason for all the good company, and Luke and Melissa for the soundtrack to our evening!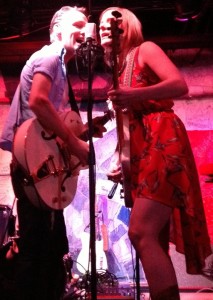 http://philipsturner.com/wp-content/uploads/2016/11/GGB_Logo.png
0
0
Philip Turner
http://philipsturner.com/wp-content/uploads/2016/11/GGB_Logo.png
Philip Turner
2013-01-19 13:43:13
2013-01-19 16:15:38
Enjoying Whitehorse at Hill Country with Friends