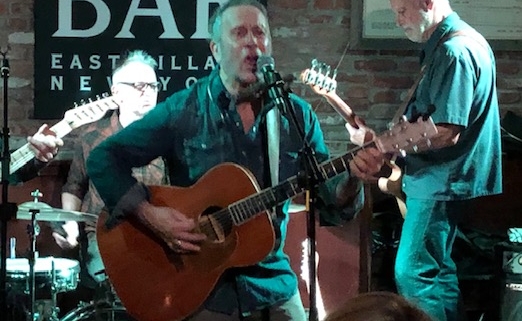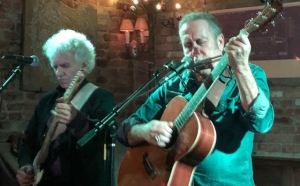 More than six years ago, at a now-shuttered music venue called The Living Room on Manhattan's Lower East Side, I was lucky to hear singer/songwriter Marc Berger for the first time, a live show that I wrote about then for this blog. I made friends with Marc and have stayed on his email list so earlier this week was delighted to see that he'd be playing at another LES venue, 11th St Bar, with no cover charge on Thursday night. I made a point of turning up.
Marc always assembles a good band. On acoustic guitar and vocals, he was flanked by four good players, mandolin, electric bass, drums, and electric guitar—the bass and mandolin players had been on hand earlier occasions. They played two full sets in the intimate room—a donation bucket was passed around twice among the appreciative audience—and a piano player came on for the late set when Marc switched from acoustic guitar to an electric of his own.
I believe the songs were all his compositions, several coming from his 2013 album "Ride," along with some newer numbers. If you enjoy acoustic and roots music drenched in the American West, and artists like Ian Tyson and Tom Russell, you ought to listen to Berger and his richly themed album. On Berger's website, he writes about the setting that inspired the music: "Clouds that forever stampede the endless sky, shadows gliding over canyon walls–the West is a vast expanse of magic and mystery. American artists from John Ford to Frederick Remington to A.B. Guthrie have used film, canvas and the printed page to convey the essence of its unique landscape and mythology." To those visual associations, I'll add the 1962 black & white Kirk Douglas film, 'Lonely Are the Brave,' where he plays a latter day cowboy unable to conform to modern society. The movie was based on a novel, Brave Cowboy,  by legendary iconoclast of the American West Edward Abbey. Relatedly, Kirk Douglas also played the lead role in the 1952 adaptation of the aforementioned Guthrie's modern classic about the frontier west, The Big Sky.
Here's an old video of Berger and band playing his song "The Devil Came Down from Idaho" at the much-missed Living Room. Jeff Eyrich, here on acoustic bass, also played at the 11th St Bar gig, with nice chunky bass parts. Berger definitely keeps good musicians around him. Rob Meador, the mandolin player, is a rhythmic rock. And Berger's a good performer, with lots of energy and easy banter between songs.
Among the sideplayers at 11th St Bar was a well known music producer, Steve Addabbo, who played tasty lead guitar throughout the evening. That's him in my photos with the halo of white hair. During the break between sets I saw him talking with another member of the audience, a woman who had a friendly dog with her. We began conversing and when Steve went back to play the next set, I properly met the sweet coffee-colored Labradoodle, Bertie, and his audience member owner. Turns out she is a gifted musician herself, the singer/songwriter Diana Jones, whose catalog I'm now exploring. That's New York for you—you really never know who you might meet when you walk out your door. Her songs are Appalachian-infused ballads with a strong social conscience. She told me of a song of hers performed by Ana Egge and Iris Dement, "Ballad of a Poor Child." Here's a video of Jones singing her poignant song, "Pony."
It was a treat hearing Marc Berger's songs inspired by the American West and his lifetime of experiences on our vast continent, and meeting Diana Jones and discovering her soulful music. 11th St Bar is a comfortable venue that I hope to return to soon. They have a traditional Irish music session on Sunday nights that runs from 10pm-2pm, which must be lots of fun.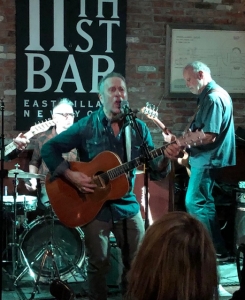 http://philipsturner.com/wp-content/uploads/2019/12/5-Berger.jpg
640
522
Philip Turner
http://philipsturner.com/wp-content/uploads/2016/11/GGB_Logo.png
Philip Turner
2019-12-07 16:02:45
2019-12-09 18:41:50
Another Good "Ride" with Marc Berger & Band